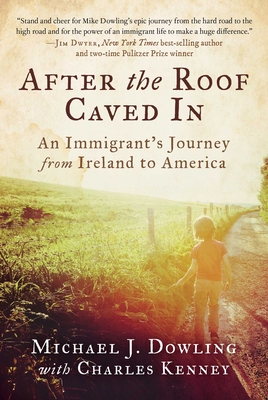 After the Roof Caved In
An Immigrant's Journey from Ireland to America
Hardcover

* Individual store prices may vary.
Other Editions of This Title:
Paperback (8/23/2022)
Description
The moving story of an Irish immigrant's life, from a poverty-stricken childhood in Ireland to becoming a captain of industry, After the Roof Caved In is a powerful, poignant look at how hard work and education enabled one young man to change his life and circumstances completely. 

Today, Michael J. Dowling is president and CEO of Northwell Health, New York state's largest healthcare provider and private employer, with over 68,000 employees and over 700 facilities. But he grew up in deep poverty in the village of Knockaderry in rural Ireland, in a small home without running water or a stable roof, in a family with little hope for improvement and a place with little opportunity—and he overcame it all to become wildly successful. 

After the Roof Caved In is Dowling's rags-to-riches story of his life and journey from his destitute youth to his realization of the power of education and his eventual departure from his home to attend university in Cork, and onward through his life as he gradually improved himself and his circumstances. Full of memories both fond and painful, this powerful memoir examines the family dynamics of his childhood—including the lives of his deaf mother and arthritic father—as well as the social systems of the time, the politics and concerns of the day, and the way a variety of disparate events came together to help Dowling change his life completely. Most importantly, it chronicles his lifelong effort to rise above the circumstances into which he was born and to create the sort of life he dreamed possible. 

For anyone interested in the stories of immigrants, the experiences of the Irish in the mid-20th century, or the value of hard work and education in changing one's life, After the Roof Caved In is an essential read, and a heartfelt, deeply moving meditation on an extraordinary life. 
Praise For After the Roof Caved In: An Immigrant's Journey from Ireland to America…
"Stand and cheer for Mike Dowling's epic journey from the hard road to the high road and for the power of an immigrant life to make a huge difference." —Jim Dwyer, New York Times best-selling author and two-time Pulitzer Prize winner

"There are immigrants who are very successful, then there are immigrants who split the atom. The second type are very rare; Michael Dowling is one of just two I have met. He tells a cinematic story of the small villages in Ireland that is emblazoned in his soul, alongside the account of his astonishing achievements that are rooted not in the Harvard Business School manual but in the hard lessons learned tilling that lonely Irish soil. With searing honesty, like ripping a bandage off a deep wound, Dowling recounts his childhood in an impoverished family on the perpetual cusp of danger, violence, penury, separation, and desperation. Yet somehow he did not just endure but triumphed against all odds, brought himself to America, and achieved in one generation what should have taken three. After the Roof Caved In is a stunning and important book."  —Niall O'Dowd, author of A New Ireland

"Be you prince or pauper, Irish immigrant, Michael Dowling's undaunted quest for higher education and a better life is a motivating primer for never giving up. His engaging story of coming to America is alive with Celtic wisdom and wit. This awe-inspiring saga is a life-changing read."  —Dolley Carlson, author of The Red Coat: A Novel of Boston
Arcade, 9781951627249, 272pp.
Publication Date: October 13, 2020
About the Author
Michael J. Dowling is president and chief executive officer of Northwell Health. Dowling grew up in Limerick, Ireland. He earned his undergraduate degree from University College Cork (UCC), Ireland, and his master's degree from Fordham University. He also has honorary doctorates from Hofstra University and Dowling College. He played hurling with Limerick and won a National League medal and a Fitzgibbon Cup medal with UCC. Before his public service career, Dowling was a professor of social policy and assistant dean at the Fordham University Graduate School of Social Services and director of the Fordham campus in Westchester County. Afterwards, Dowling served in New York State government for 12 years, including seven years as state director of Health, Education and Human Services and deputy secretary to former governor Mario Cuomo. He was also commissioner of the New York State Department of Social Services.
Charles Kenney serves as chief journalist at Northwell Health and executive editor of the Northwell Innovation Series. He is the author of many books including The Best Practice: How the New Quality Movement Is Transforming Medicine (PublicAffairs 2008), which The New York Times described as "the first large-scale history of the quality movement." He serves on the faculty of the Institute for Healthcare Improvement in Cambridge, Massachusetts.