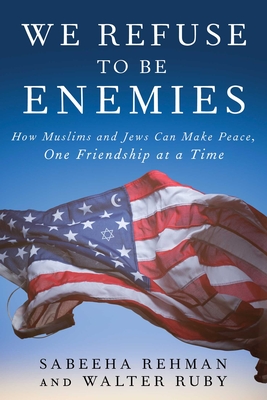 We Refuse to Be Enemies
How Muslims and Jews Can Make Peace, One Friendship at a Time
Hardcover

* Individual store prices may vary.
Description
For readers of The Faith Club, Sons of Abraham, and The Anatomy of Peace, a call for mutual understanding and lessons for getting there
We Refuse to Be Enemies is a manifesto by two American citizens, a Muslim woman and Jewish man, concerned with the rise of intolerance and bigotry in our country along with resurgent white nationalism. Neither author is an imam, rabbi, scholar, or community leader, but together they have spent decades doing interfaith work and nurturing cooperation among communities. They have learned that, through face-to-face encounters, people of all backgrounds can come to know the Other as a fellow human being and turn her or him into a trusted friend. In this book, they share their experience and guidance.

Growing up in Pakistan before she immigrated to the United States, Sabeeha never met a Jew, and her view was colored by the Israeli-Palestinian conflict. In his youth, Walter never met a Muslim, and his opinion was shaped by Leon Uris's Exodus. Yet together they have formed a friendship and collaboration. Tapping their own life stories and entering into dialogue within the book, they explain how they have found commonalities between their respective faiths and discuss shared principles and lessons, how their perceptions of the Other have evolved, and the pushback they faced. They wrestle with the two elephants in the room: the Israeli-Palestinian conflict and polarizing material in their holy texts and history. And they share their vision for reconciliation, offering concrete principles for building an alliance in support of religious freedom and human rights.  

"As members of the two largest minority faith communities in America, we must stand together at a portentous moment in American history. Neither of our communities will be able to prosper in an America characterized by xenophobia and bigotry."—Sabeeha Rehman and Walter Ruby
Praise For We Refuse to Be Enemies: How Muslims and Jews Can Make Peace, One Friendship at a Time…
 "We Refuse to Be Enemies is an epiphany—a profoundly American book. . . . Two searingly honest memoirs intertwine in We Refuse to Be Enemies. Rehman and Ruby are each activists in the growing movement of Muslim-Jewish engagement."—Rabbi Burton L. Visotzky, PhD, Appleman Professor of Midrash and Interreligious Studies, Director, Milstein Center for Interreligious Dialogue, Jewish Theological Seminary

"I salute Sabeeha Rehman and Walter Ruby for their important contribution to strengthening Muslim-Jewish relationschronicled in We Refuse to Be Enemies. I am proud to have been involved in this cause since 2006, and to have worked with Walter, Sabeeha, and other pioneers to build a common space between Muslims and Jews for dialogue, communication and interaction. We Refuse to Be Enemies is a gripping account of how our two communities stood up for each other in the face of Islamophobia and anti-Semitism, and a prescription for how we can work together going forward  to buttress pluralism, democracy, and religious liberty in this country. Not to be missed."—Dr. Sayyid Syeed, President Islamic Society of North America (ISNA)
"Sabeeha Rehman and Walter Ruby have written an essential book for the vital and important emergence of a Muslim-Jewish alliance in the United States. It takes more than a shared disgust with Donald Trump's myriad forms of bigotry to bridge the gap between Jews and Muslims in America. Now this book helps light the path. Affectionate and yet unflinching, Rehman and Ruby draw on personal experience, history, theology, and concrete examples of effective partnership to show the hard work that our two communities must continue to do. They model an interfaith relationship in which we can agree to disagree on certain issues—Israel-Palestine at the top of the list—while refusing to subject our alliance to a loyalty oath's checklist."—Samuel G. Freedman,  award-winning author of  Jew vs. Jew: The Struggle for the Soul of American Jewry, columnist, and professor at Columbia University Graduate School of Journalism

""Today, Pakistan and Israel do not recognize each other. But here are two brilliant writers—one rooted in Pakistan, the other in Israel—who do recognize, understand, and respect each other. Sabeeha Rehman and Walter Ruby, a Muslim and a Jew, are both proud of their faith traditions, while being wise enough to see the deep ties and bridges between them. Their stories and insights give us some hope for the future of the world, including the Middle East, at a time when their current state of affairs isn't too bright."—Mustafa Akyol, Cato Institute Senior Fellow,  opinion writer For the New York Times, and author of Islam without Extremes: A Muslim Case for Liberty
"This is a unique and remarkably compelling book written as a dialogue between a Muslim woman and a Jewish man. We learn what it takes to understand the many historical issues and experiences of both communities through their lens. They explore challenges as well as the unity among Jews and Muslims in the United States without losing their deep attachments to Pakistan and Israel. A vital contribution for dialogue and peace between Jews and Muslims."—Mehnaz M. Afridi, Phd, Holocaust, Genocide and Interfaith Education Center at Manhattan College
 
"A Muslim woman living in an Orthodox Jewish neighborhood; a Jewish man hanging out with Arab Bedouins in Israel. Their stories of transformation and bringing communities together offers hope for America."—Wajahat Ali, author of The Domestic Crusaders and contributing New York Times op-ed writer
 
"Sabeeha Rehman and Walter Ruby's work is at once daring and careful, forgiving and demanding. They share their stories with disarming honesty, having come to their positions through deep listening and personal experience. This book gives a taste of what real Muslim-Jewish dialogue can look like. This is something the two of us learned personally when, at Walter's initiative, our respective congregations in Northern Virginia, Temple Rodef Shalom and McLean Islamic Center, formed a wonderful twinning relationship; one which positively transformed attitudes toward the 'Other' in both congregations."—Rabbi Jeffrey Saxe, Temple Rodef Shalom, and Dr. Maqsood Chaudhry, Founder and Trustee, McLean Islamic Center  
"In this important book, Walter Ruby and Sabeeha Rehman give us unique insight into their own personal transformation journeys and their years of work on the ground to build authentic Jewish-Muslim relationships in the United States. The authors don't shy away from the difficult issues, but rather show how—through lived experience—they have been able to build lasting relationships that go far beyond the surface. This is a must-read for anyone looking to deepen their own interfaith engagement."—Dr. Catherine Orsborn, Executive Director, Shoulder to Shoulder Campaign
"Having spent a lifetime building dialogue between members of different religious traditions, I am truly excited for the release of Walter Ruby and Sabeeha Rehman's We Refuse to Be Enemies, which focuses on efforts to bring together Jews and Muslims in peaceful coexistence. Given the massive importance of the Jewish-Muslim relationship, I consider Ruby and Rehman's work to be a prerequisite for anyone interested in interfaith dialogue." —Dr. Akbar Ahmed, Ibn Khaldun Chair of Islamic Studies at the American University's School of International Service, Former High Commissioner of Pakistan to the UK and Ireland
Arcade, 9781951627331, 312pp.
Publication Date: April 20, 2021
About the Author
Sabeeha Rehman came to the United States in 1971. When her sons were school age, she earned her masters in healthcare administration and began a career as a hospital administrator. In 2008 she cofounded the New York Metro chapter of the National Autism Association and was its president. She has been doing interfaith work for many years and blogs on topics related to the theme of her memoir at www.sabeeharehman.com. She lives with her husband in New York City.