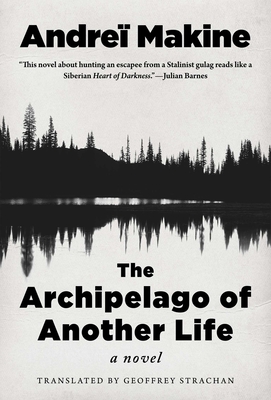 The Archipelago of Another Life
A Novel
Hardcover

* Individual store prices may vary.
Description
"This novel about hunting an escapee from Stalinist gulag reads like a Siberian Heart of Darkness." —​Julian Barnes

On the far eastern borders of the Soviet Union, in the sunset of Stalin's reign, soldiers are training for a war that could end all wars, for in the atomic age man has sown the seeds of his own destruction.

Among them is Pavel Gartsev, a reservist. Orphaned, scarred by the last great war and unlucky in love, he is an instant victim for the apparatchiks and ambitious careerists who thrive within the Red Army's ranks.

Assigned to a search party composed of regulars and reservists, charged with the recapture of an escaped prisoner from a nearby gulag, Gartsev finds himself one of an unlikely quintet of cynics, sadists, and heroes, embarked on a challenging manhunt through the Siberian taiga.

But the fugitive, capable, cunning, and evidently at home in the depths of these vast forests, proves no easy prey. As the pursuit goes on, and the pursuers are struck by a shattering discovery, Gartsev confronts both the worst within himself and the tantalizing prospect of another, totally different life.
Praise For The Archipelago of Another Life: A Novel…
"The Archipelago of Another Life is quintessential Makine, exposing the brute machinery of Soviet totalitarianism in a captivating tale of suffering, resistance and transcendence. It is at once fabular and finely realist, earthy and quasi-religious, narratively elliptical and a pleasingly straightforward tale of adventure. Set in the author's native Siberia, it is, if not quite a wild goose chase, then certainly a wild taiga one."—Toby Lichtig, The Wall Street Journal
"This novel about hunting an escapee from Stalinist gulag reads like a Siberian Heart of Darkness."—Julian Barnes
 
"Makine has justifiably been compared to Tolstoy but here I think the better reference is Joseph Conrad."—THE SPECTATOR
 
"A powerful story of metaphysical adventure."—Marianne Payot, L'Express

"A thrilling manhunt through the taiga."—Claire Devarieux, Libération

"As good as Stendhal or Tolstoy . . . I would rather read him than anyone else now writing."—Allan Massie, Literary Review

"One of the significant novelists of our age."—Stephanie Merritt, Observer

"Makine packs great steppes-full of history into compact, bejewelled boxes of prose."—Boyd Tonkin, Independent

"Makine's wonderful economy of image and phrase convey far more than one could think possible about the Russian soul."—Anthony Beevor, Daily Telegraph
Arcade, 9781951627522, 240pp.
Publication Date: October 5, 2021
About the Author
Andreï Makine is an internationally best-selling author. He is the winner of the Goncourt Prize and the Medicis Prize, the two highest literary awards in France, for his novel Dreams of My Russian Summers, which was also a New York Times Notable Book and a Los Angeles Times Best Book of the Year. Makine was born in Siberia in 1957 and raised in the Soviet Union. Granted asylum in France in 1987, Makine was personally given French citizenship by President Jacques Chirac. He now lives in Paris. Arcade Publishing has published ten of Makine's acclaimed novels in English.