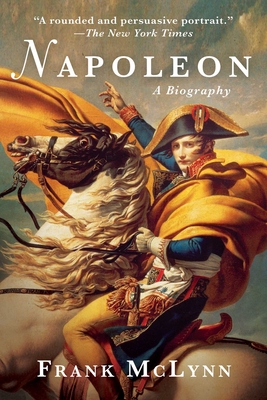 Napoleon
A Biography
Paperback

* Individual store prices may vary.
Other Editions of This Title:
Paperback (4/1/2011)
Description
This acclaimed biography of one history's great figures—called "monumental" (Library Journal), "brilliant" (Times, London) and "a rounded and persuasive portrait" (New York Times)—is now available in a new edition.

Napoleon Bonaparte's character and achievements have always divided critics and commentators. In this compelling biography, Frank McLynn has drawn on exhaustive research and the most recent scholarship to throw a brilliant light on this most paradoxical of men—as military leader, lover, and emperor.

Tracing Napoleon's extraordinary career, McLynn examines the Promethean legend from his Corsican roots, through the chaotic years of the French Revolution and his extraordinary military triumphs, to the coronation in 1804, his fateful decision in 1812 to add Russia to his seemingly endless conquests, and his ultimate defeat, imprisonment, and death on Saint Helena. Napoleon the man emerges as an even more fascinating character than previously imagined, and McLynn brilliantly reveals the extent to which he was both existential hero and plaything of Fate; mathematician and mystic; intellectual giant and moral pygmy; Great Man and deeply flawed human being.
Praise For Napoleon: A Biography…
A New York Times Notable Book

"Fair-minded and well written . . . McLynn sketches in context and milieu and, after a slow start, brings his subject to life. Napoleon's paradoxes, his extraordinary energy, his mercurial temperament all form part of a rounded and persuasive portrait."—New York Times Book Review

"Monumental . . . [and] clearly one of the most pleasurable [Napoleon biographies] to read . . . Using an interesting mixture of narrative and analysis, McLynn explores aspects of Napoleon's life often ignored by other authors. . . . What results is a less psychopathic, more human view of this much mythologized European. Strongly recommended for all collections."—Library Journal

"Extremely interesting . . . detailed and expansive. McLynn is much interested in the psychological compulsions and motivations underlying Napoleon's performance."—Raleigh News & Observer

"A well-researched, convincing portrait."—Publishers Weekly

"McLynn's study is for readers wanting a more in-depth analysis. . . . Written with great stylistic flourish, McLynn's full embrace of his subject's life, which benefits from exhaustive research resulting in a comprehensive picture of the Napoleonic era, is a rich reading experience."—Booklist

"Solidly crafted and seemingly balanced . . . Napoleon on the battlefield. Napoleon in the bedroom. Napoleon in spectacular triumph and shameful defeat—McLynn shows us all the countless Napoleons in their inexplicable inconsistency."—Book Magazine

"A brilliant biography which will surely become a classic life of Napoleon."—The Times (London)

"One of the year's best biographies . . . A compelling portrait of one of history's greatest figures."—Scotsman

"McLynn writes with considerable verve: his pithy characterisations of Napoleon's subordinates, the alternating chapters of narrative and analysis, the dramatic set-pieces . . . all these combine to make his biography pleasurable and highly instructive to read."—Evening Standard

"McLynn offers an admirably clear narrative, neither adulatory nor debunking. He acknowledges and displays the extraordinary tale and does not hide the pettiness."—Daily Telegraph

"A robust, well-paced biography which pans confidently from the seventeen-year-old child educated by Jesuits to the ruins of the imperial grandeur and death by slow arsenic poisoning on a bleak St. Helena."—Scotland on Sunda
Arcade, 9781951627546, 768pp.
Publication Date: April 27, 2021
About the Author
Frank McLynn was educated at Oxford and the University of London. A full-time writer, he won the 1985 Cheltenham Prize for Literature for The Jacobite Army in England, and is the author of a number of acclaimed biographies, including Richard and John: Kings at War; Villa and Zapata; 1066; and Heroes & Villains.