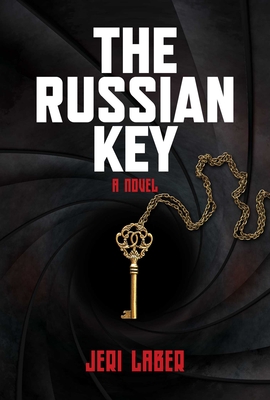 The Russian Key
A Novel
Hardcover

* Individual store prices may vary.
Description
"An intriguing spy novel written in the form of a memoir . . . Those seeking a fresh take on the genre will be satisfied."—Publishers Weekly

An exciting debut for fans of The Americans and Red Sparrow.
           
In 1964, at the height of the Cold War, Kate Landau, a young American expert on Russia, joins the CIA. Drawn to danger and adventure, she hopes to be sent to Moscow, but instead finds herself stuck in an office doing boring translations. When her big break comes, she's recruited to work undercover in New York City, investigating a KGB officer posing as a UN diplomat. Exactly the kind of work she'd hoped for.
 
The KGB officer is not a stranger. She'd met him in Moscow years before when he was a handsome university student named Max and she was a naive American college girl visiting the Soviet Union on a rare friendship tour. Max had been her first lover. She still treasures the little gold key he'd given her one memorable night in a Moscow park.
 
When Kate and Max meet up again in New York and inevitably resume their love affair, it is passionate, but fraught with distrust and secret agendas. A series of dangerous events lead Kate to fear for her life—and to suspect the man who is both her lover and her enemy. Against a background of Soviet brutality and international intrigue, The Russian Key will keep you guessing as it builds to its shocking and unexpected climax. 
 
Praise For The Russian Key: A Novel…
Praise for The Russian Key:
 
"An intriguing spy novel written in the form of a memoir . . . Those seeking a fresh take on the genre will be satisfied."—Publishers Weekly

"The Russian Key is a captivating Cold War thriller. Its clean, clear prose and artful plotting kept me turning pages into the wee hours. Laber has had an illustrious career doing clandestine human rights work behind the Iron Curtain, and she draws on her deep knowledge to create a story as authentic as it is entertaining." —Joe Weisberg, creator of The Americans
 
"I picked up The Russian Key and couldn't put it down. As a founder of Human Rights Watch, author Jeri Laber builds her novel on knowledge acquired in 'dozens of missions' into the underground in the Soviet Union and Eastern Europe. In our era, in which heroes wear capes and fly, it is a joy to be able to hang on to an ever-provocative story which describes an attractive and unusual love affair."—Hannah Pakula, author of New York Times notable book The Last Empress, The Last Romantic, and An Uncommon Woman
 
"In this fast-paced and often witty book, Jeri Laber combines her deep knowledge of totalitarianism with the ups and downs of a thriller. She writes from the inside, conjuring multiple societies and the players within them, and the story she tells is ultimately both alarming and delightful."—Andrew Solomon, PhD., author of Far and Away, Far From the Tree, and The Noonday Demon
 
"I was surprised and delighted by Jeri Laber's The Russian Key. Its protagonists—lovers and spies, friends and enemies and CIA officials—kept me intrigued from the first page to the last. A terrific read."—Rose Styron, poet, journalist, and human rights activist 

"The Russian Key is one of the most refreshing spy novels to come along in some time, a remarkably realistic exploration of the human costs of the espionage game. Set in the Cold War era of the 1950s and 1960s, it tells the tale of a relationship between two spies, and two countries. Along the way, Katherine Landau emerges as an unlikely hero, one of the more compelling and authentic characters in American spy fiction. The author's first-hand knowledge of the Soviet Union and Eastern Europe shows throughout this taut, thought-provoking novel. A great read."—James Lilliefors, author of The Children's Game (as Max Karpov)

"Layer-upon-layer and twist-after-twist, Jeri Laber's novel redefines deception. A young woman, fascinated by everything Russian, becomes a CIA operative, and ends up in a torrid—and dangerous—affair with a suspected KGB agent. Between them, they deal lies like cards, leaving the reader to sort out what's true and who has the better hand. Laber's personal history with clandestine activities lends authenticity to the story, which she tells in a breezy, engaging way that had me totally entertained and intrigued."—Timothy Jay Smith, author of The Fourth Courier and Fire on the Island
 
"Part Hitchcock, part Ephron, all Jeri, The Russian Key (a veritable russkie á clef) is ridiculously entertaining: gripping, taut, sexy, sly and altogether delicious."—Lawrence Weschler, author of Calamities of Exile and A Miracle, A Universe: Settling Accounts with Torturers
 
"Jeri Laber's The Russian Key is a swift, deftly plotted spy story twined with a tale of passionate love. The authentic details attest to the author's long years as a human rights activist during the Cold War, while twist after breathtaking twist lead the reader to an electrifying conclusion. The Russian Key is a wild ride and a thrilling read."—Ellen Pall, author of Corpse de Ballet
 
"The Russian Key is a page-turning novel about the Soviet and US dance during the height of the Cold War, a story of love and betrayal with complex characters. An innocent American scholar of Russia and an attractive KGB/cultural affairs officer draw the reader deeper and deeper into the peril of global politics at the time, of personal dilemmas and ultimately of life-shaping choices. Jeri Laber also shines a light on this period of history when the human rights movement came to life." —Joanne Leedom-Ackerman, author of The Dark Path to the River and No Marble Angels  

Praise for The Courage of Strangers:

"My friend Jeri Laber tells in this good book of risking her life as a spy with no connection whatsoever to any government. Her hatred for injustice set her into countries with cruel governments, some of them American allies, to gather news of atrocities from victims, which she then told the whole world about. Much as we might wish otherwise, our own government could not, for reasons diplomatic or economic or military or even ideological, engage in such compassionate espionage. A subtitle for the next printing might be: 'The Privatization of National Honor and Common Decency.'" —Kurt Vonnegut
 
"This is the memoir of a brave woman, who left her traditional middle class life to confront the varieties of human depravity as a leading operative in the human rights movement. What this occupation can do to one's soul is not dwelled upon. Her story, with its inevitable moments of high drama, is instructive as history and quietly moving as the statement of a person called to the ministry of humanism. It reminded me that the American Dream is something more than corporate thievery, celebrity worship, and political cant." —E. L. Doctorow
 
"The Courage of Strangers is a moving autobiographical account of Jeri Laber's journey from domestic life with its pleasures and trials to her public role as one of the founders of Human Rights Watch. Beneath her cool in detailing the history of the human rights movement, there is a moral passion that claims the reader's attention on every page. Jeri Laber's story—of personal bravery (she would never claim it) and stunning public testimony is compelling and beautifully told." —Maureen Howard
 
"It took the labors of Hercules to hoist human rights onto the platforms of international conferences and to make those rights as important as business and political criteria among nations in their dealing with one another. Over the years a considerable number of people have attempted to pressure the Soviets and other regimes toward greater toleration of dissidence, and one of the most effective has been Jeri Laber. This book is her personal story but it is also a concise history if the human rights epoch as she saw it from the end of World War II to the present." —Arthur Miller
 
"A persuasive memoir . . . The Courage of Strangers celebrates [political dissidents'] courage, as well as Jeri Laber's own . . . " —New York Review of Books
 
"Timely and impressive . . . Blending an account of an often uneasy private life with a portrait of the characters and events that shaped the American human rights movement—and bringing a cool, clear eye to both—Laber provides a fascinating record . . . The Courage of Strangers is a lucid and engaging history of human rights in both the West and the Soviet countries." —The Times Literary Supplement
 
"An honest, moving and simple memoir which shows self-knowledge without self-indulgence . . . She won the trust of such giants of dissidence as Vaclav Havel . . . Andrei Sakharov . . . Natan Sharansky . . . and Larisa Bogoraz." —The Economist
 
"The Courage of Strangers details the courage of dissidents and writers, scientists and intellectuals, and not least the courage of an American woman to reach out beyond her sphere of safety. It is an inspirational story, as well as a useful introduction to Soviet and human rights studies." —The Forward
 
"[W]hen the governments in the East collapsed, it was often the friends of Jeri Laber, the outcasts of the Helsinki federation, who became the new leaders . . . Jeri Laber certainly was the real thing." —New York Law Journal
 
"[D]etails her often dangerous trips to Brezhnev's Soviet Union and East European nations and chronicles the events leading to the development of Helsinki Watch and Human Rights Watch . . . Inspirational testimony to the value of a human rights organization that investigates and publicizes human rights violations with fairness and without regard to political ideology or US foreign policy." —Library Journal
 
"With a gift for storytelling, Laber weaves together passages that intrigue . . . with rare moments of glory . . . The result is a thoughtful . . . but usually fast-paces, inside view of Eastern Europe during a cataclysmic era." —Hope
 
Arcade, 9781951627720, 240pp.
Publication Date: May 18, 2021
About the Author
Jeri Laber is a founder of Human Rights Watch, where she served as Executive Director of the Europe and Central Asia Division during the Cold War until 1995. She completed dozens of missions, in which she went undercover in the Soviet Union and Eastern Europe, dodging the secret police and bringing hope to dissidents. After the fall of Communism, she received the Order of Merit from Czech Republic President Vaclav Havel. She has published her memoir The Courage of Strangers: Coming of Age with the Human Rights Movement and A Nation is Dying: Afghanistan Under the Soviets, 1979-87, as well as more than one hundred articles on human rights issues in The New York Times, The New York Review of Books, The Washington Post, The Chicago Tribune, The Los Angeles Times and others.