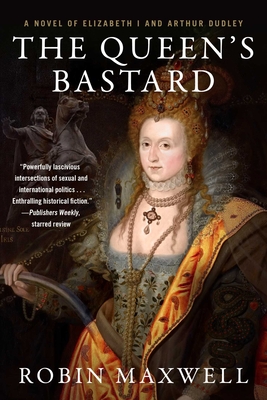 The Queen's Bastard
A Novel of Elizabeth I and Arthur Dudley
Paperback

* Individual store prices may vary.
Other Editions of This Title:
Paperback (9/1/2011)
Paperback (6/15/2000)
Paperback (4/18/2011)
Description
Now available in a new edition, the second book in Robin Maxwell's acclaimed Elizabethan quartet: "Powerfully lascivious intersections of sexual and international politics [combine] with Maxwell's electrifying prose . . . [to] make for enthralling historical fiction" (Publishers Weekly, starred review).

Historians have long whispered that "the Virgin Queen" Elizabeth's passionate, lifelong affair with Robin Dudley, Earl of Leicester, may have led to the birth of a son, Arthur Dudley. In this entertaining sequel to The Secret Diary of Anne Boleyn, Robin Maxwell fashions a stunning fictional account of the child switched at birth by a lady-in-waiting who foresaw the deleterious political consequences of a royal bastard. Set against the sweeping, meticulously rendered backdrop of court intrigues, international scandals, and England's battle against the Spanish Armada in 1588, Maxwell deftly juxtaposes Elizabeth and Leicester's tumultuous relationship with the memoirs of the adventurous son lost to them—yet ultimately discovered.

The Queen's Bastard artfully weaves two tales, the first told by Arthur Dudley himself, who, exchanged at birth by Elizabeth's intimates for a stillborn infant, grows up as a country gentleman, never knowing his true identity. A dreamer, a romantic, and a magnificent horseman, Arthur sets off to fight Philip II of Spain. Meanwhile, the lifelong love affair of Elizabeth and Leicester has only been strengthened by the presumed loss of their child. The two narratives collide when Arthur learns who his true parents are. Religion, sex, and the sixteenth century's most fascinating personalities are woven into a rich tapestry of betrayal, the quest for power, and love.
Praise For The Queen's Bastard: A Novel of Elizabeth I and Arthur Dudley…
"Powerfully lascivious intersections of sexual and international politics [combine] with Maxwell's electrifying prose . . . [to] make for enthralling historical fiction. . . . Maxwell's research examines the biographical gaps in, and documented facts about, the queen's life, making this incredible tale plausible, and the author aptly embellishes her story with rich period details and the epic dramas of the late 16th century."—Publishers Weekly, starred review

"[A] sequel tailor-made for moviegoers now delighting in Elizabeth and Shakespeare in Love . . . Thundering dialogue supporting plot upon plot."—Kirkus Reviews

"Set against the historical backdrop of England's antipathy with Spain over its brutal war against the Dutch, the novel provides authentic details of hardships endured both by soldiers and towns under siege. . . . Well-researched and laced with plausible dialog and absorbing narrative."—Library Journal

"Robin Maxwell is a storyteller who manages a rare originality in a period that has been done and done again.  She has given us a glimpse into the tragic affair of the heart between Elizabeth and Robin Dudley.  And by introducing us to the person of Arthur Dudley, she has defied stodgy academics, who would have kept us from knowing that such a character existed. Her plausible tale has allowed us to decided for ourselves if Arthur Dudley was, in fact, Elizabeth and Leicester's illegitimate son."—Julia Barrett, author of Presumption and The Third Sister

"I'm beginning to see Elizabeth with a new respect because of this author. . . . In fact, of all the books I've read on Elizabeth, Maxwell's are among my favorites. She just has a way of making her human and likable. She has her faults, but she's also unmistakably regal and wise. . . . Hands down Robin Maxwell wins when it comes to making a fair and interesting characterization of Queen Elizabeth I."—Historical-fiction.com
Arcade, 9781951627867, 504pp.
Publication Date: October 5, 2021
About the Author
Robin Maxwell began writing novels about the historical figures she had been obsessing about since graduating from Tufts University with a degree in Occupational Therapy. Her bestselling first novel The Secret Diary of Anne Boleyn,  won two YA awards and has been translated into fourteen languages. The Wild Irish —an epic tale of Ireland's rebel queen, Grace O'Malley—closed out her Elizabethan Quartet and is now in development for a television series. Signora Da Vinci and Jane: The Woman Who Loved Tarzan are tales of the remarkable women behind two of the world's most beloved wildmen, Maestro Leonardo and Lord Greystoke. Robin lives with her husband of forty years, yogi Max Thomas, at High Desert Eden, a wildlife sanctuary in the Mojave Desert.