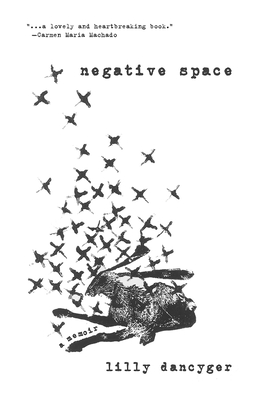 Negative Space (SFWP Literary Awards)
Paperback

* Individual store prices may vary.
Description
Despite her parents' struggles with addiction, Lilly Dancyger always thought of her childhood as a happy one. But what happens when a journalist interrogates her own rosy memories to reveal the instability around the edges? Dancyger's father, Joe Schactman, was part of the iconic 1980s East Village art scene. He created provocative sculptures out of found materials like animal bones, human hair, and broken glass, and brought his young daughter into his gritty, iconoclastic world. She idolized him—despite the escalating heroin addiction that sometimes overshadowed his creative passion. When Schactman died suddenly, just as Dancyger was entering adolescence, she went into her own self-destructive spiral, raging against a world that had taken her father away. As an adult, Dancyger began to question the mythology she'd created about her father—the brilliant artist, struck down in his prime. Using his sculptures, paintings, and prints as a guide, Dancyger sought out the characters from his world who could help her decode the language of her father's work to find the truth of who he really was.
Praise For Negative Space (SFWP Literary Awards)…
"
Negative Space
is a lovely and heartbreaking book; navigating pain, inheritance, and loss. Dancyger's father emerges from these pages as vividly as if I'd known him..." —Carmen Maria Machado  
"This book is so many things: a daughter's heartrending tribute, a love story riddled by addiction, a mystery whose solution lies at the intersection of art and memory. Together, they form a chorus that I could not turn away from." —Melissa Febos, Award-winning author of
Whip Smart
and
Abandon Me
"Lilly Dancyger creates an unflinching account of her artist father's snakebitten life and his struggles with addiction – peeling back the layers around an artistic practice that seems weighted with vulnerability. Ultimately, he comes painfully alive as Dancyger charts an elegiac path to her own self-discovery." —Cynthia Carr, author of
Fire in the Belly: The Life and Times of David Wojnarowicz
"Candid, thrilling, wickedly smart, NEGATIVE SPACE is one of the greatest memoirs of this, or any, time." —T Kira Madden, award-winning author of Long Live the Tribe of Fatherless Girls
"Practically hot to the touch." —
BookPage
(Most Anticipated Fall Nonfiction)  
"This book gives powerful voice to women's rage in all its glory."—
Pacific Standard
"Dancyger collects essays from 22 female writers contemplating (and unleashing) anger, continuing the #MeToo ethos of emotional transparency and righteous indignation, to bracing and powerful effect. The writers are a diverse group and cover a wide range of experiences.... [
Burn It Down
is] a cathartic and often inspiring reading experience." —
Publishers Weekly
"Powerful and provocative, this collection is an instructive read for anyone seeking to understand the many faces—and pains—of womanhood in 21st-century America." —
Kirkus Reviews
"This book is a true accomplishment, one that often left me stunned and disturbed in all the right ways, all the ways brilliant art does." —Alex Marzano-Lesnevich, award-winning author of
The Fact of a Body
"Upon turning the final page, I felt both intense grief and pride, despair and hope. I ached for the daughter who missed her father—and truth be told, by then, I missed him too—but beyond that, I felt emboldened, energized, ready. Schactman once reminded Dancyger to "use the whole page" while drawing, to remember the negative space around the figure. It's a lesson in the weight of absence, one that comes to shape Dancyger's artistic practice." —
Phoebe Journal
"Dancyger's eye for detail and devoted pursuit of grim truths make this an enthralling read. By shining light into the dark corners of her family's past, she creates a brilliant and gut wrenching memoir." —
Bust Magazine
"As she travels the past picking up remnants and clues from her father's art and life, Dancyger brings to form new stories of family and identity as their own works of art. Negative Space is a beautiful restoration act." —Lidia Yuknavitch, author of
The Chronology of Water
"Dancyger's memoir is a page turner, the details in this book stayed with me, I dare you to put it down." —Sofia Perpetua, journalist
"In
Negative Space
, Dancyger achieves that beautiful, often elusive, balance of writing about addiction with equal parts examination and empathy." —Erin Khar, author of
Strung Out: One Last Hit and Other Lies that Nearly Killed Me
"Other children of addicts who experienced difficult transitions into adulthood will find much to relate to here." —Jessica Wakeman,
 BookPage
"The writing style of
Negative Space
is not calm water. Rather it is a mad river...both a literary work and an exhibition. Through this memoir, Dancyger has created a gift of immortality for her departed father." —
Porter House Review
"Dancyger's memoir manages to be so many wonderful and heartbreaking things at once. With empathy and gorgeous prose, Dancyger excavates, explores, and attempts to understand her father—a brilliant artist and addict—as he was: flawed, complicated, and so very, very loved." —
The Millions
"[
Negative Space
] rejects traditional expectations of closure, instead confidently examining the dual nature of parent-child relationships, creative legacy, and artistic creation as an act of communion." —Claudia McCarron, 
Ploughshares
"Dancyger is an extraordinary writer, and her bravely introspective memoir will blow you away." —Elizabeth Ann Entenman, 
Hello Giggles
"An exquisitely intimate unveiling of not only her father, but of her mother and herself. The language is elegant, precise, boney with wisdom and devotion. Each sentence is a finely wrought work of art unto itself." —Jane Ratcliffe, 
Electric Lit
"A searing portrait of grief and anger that you won't be able to put down." —Vit Cavage, 
Debutiful
" Much like her father had, Dancyger crafts a striking composition out of found objects, a poignant portrait of the identities we construct out of grief."  —
Oprah Magazine
"Readers acquire a love and respect for both Schactman's work as well as the author's." —Gabino Iglesias, 
NPR
"
Negative Space
[is] a penetrating, heartfelt story, one which plunges into the rippling depths of grief and remembrance only to change us for the better." —Jacquelyn Marie Gallo, 
The Brooklyn Rail
"this striking memoir does what an outstanding memoir should: It not only encourages its readers to explore their pasts from new perspectives, but models the bravery needed to gaze behind the curtain of memory and face whatever realities you may find there." —Karla Strand,
Ms. Magazine
"
Negative Space
is a significant debut. Using her exceptional journalistic skills, Dancyger recounts the indelible life of her father, an artist and a heroin addict, who died when she was 12. Dancyger's dexterous usage of time functions as a critical lens, panning in, out, and around, keeping memory fluid." —Yvonne Conza, 
LA Review of Books
Santa Fe Writer's Project, 9781951631031, 234pp.
Publication Date: May 1, 2021
About the Author
Lilly Dancyger is a contributing editor at Catapult, and assistant editor at Barrelhouse Books. She's the editor of Burn It Down, a critically acclaimed anthology of essays on women's anger, and her writing has been published by Rolling Stone, The Washington Post, The Atlantic, Playboy, Glamour, Longreads, The Rumpus, and more. She lives in New York City.