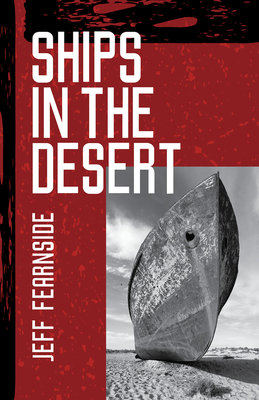 Ships In The Desert (SFWP Literary Awards)
Paperback

* Individual store prices may vary.
Description
In this linked essay collection, award-winning author Jeff Fearnside analyzes his four years as an educator on the Great Silk Road, primarily in Kazakhstan. Peeling back the layers of culture, environment, and history that define the country and its people, Fearnside creates a compelling narrative about this faraway land and soon realizes how the local, personal stories are, in fact, global stories. Fearnside sees firsthand the unnatural disaster of the Aral Sea—a man-made environmental crisis that has devastated the region and impacts the entire world. He examines the sometimes controversial ethics of Western missionaries, and reflects on personal and social change once he returns to the States. Ships in the Desert explores universal issues of religious bigotry, cultural intolerance, environmental degradation, and how a battle over water rights led to a catastrophe that is now being repeated around the world.
Praise For Ships In The Desert (SFWP Literary Awards)…
"In rich, searching essays… [Fearnside] shows us that we have much to learn from the realities of a country most Americans can't find on a map, revealing how we are connected, and all responsible for living with integrity." —Michael Copperman, author of Teacher: Two Years in the Mississippi Delta

"Fearnside explores environmental degradation and religious tensions, the powerful influence of a Soviet past on the present, and what it means to be a teacher in a foreign land. There is much in this book to be admired." —Kurt Caswell, winner of the 2008 River Teeth Nonfiction Book Prize, and author of Laika's Window: The Legacy of a Soviet Space Dog
Santa Fe Writer's Project, 9781951631154, 144pp.
Publication Date: August 1, 2022
About the Author
Jeff Fearnside is the author of the short-story collection Making Love While Levitating Three Feet in the Air and the chapbook A Husband and Wife Are One Satan, winner of the Orison Chapbook Prize. Other awards for his writing include a Grand Prize in the Santa Fe Writers Projects Literary Awards Program, the Mary Mackey Short Story Prize, and an Individual Artist Fellowship award from the Oregon Arts Commission. His work has appeared in literary journals and anthologies such as The Paris Review, Los Angeles Review, Story, and many others.