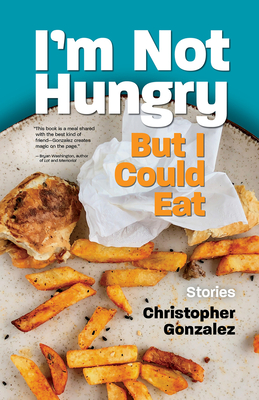 I'm Not Hungry But I Could Eat
Paperback

* Individual store prices may vary.
Other Editions of This Title:
Digital Audiobook (11/30/2021)
Description
Long nights, empty stomachs, and impulsive cravings haunt the stories of I'm Not Hungry But I Could Eat. A college grad reunites with a high school crush when invited to his bachelor party, a lonely cat-sitter wreaks havoc on his friends' apartment, happy hour French fries leave more than grease on lips and fingers, and, squeezed into a diner booth, one man eats past his limit for the sake of friendship. Exploring the lives of bisexual and gay Puerto Rican men, these fifteen stories show a vulnerable, intimate world of yearning and desire. The stars of these narratives linger between living their truest selves and remaining in the wings, embarking on a journey of self-discovery to satisfy their hunger for companionship and belonging.
Praise For I'm Not Hungry But I Could Eat…
"With these stories of dance floors and Lyft rides, of afterparty bodega sandwiches, of self-loathing mixed with shocking vulnerability, topped off by moments of self-discovery, Christopher Gonzalez's writing will feed you." —Tomas Moniz, author of Big Familia

 

"The stories in I'm Not Hungry But I Could Eat are funny, tender, beautiful, and vulnerable. It is a collection that you immediately melt into as Gonzalez' gift is in the way he lures you in with the intimacy and sincerity of his voice. This collection is so important as it represents queer, specifically bi, yearning from a male perspective without the trappings of toxic masculinity and shows the depth and breadth of human emotions and the ways in which love, lonliness, and longing are complicated by self doubt. Everyone should read this collection!" —Tyrese Coleman, author of How to Sit

"Christopher Gonzalez is a wholly original voice and this book is a treasure, crackling with real and important feelings. The stories of I I'm Not Hungry But I Could Eat are funny, sharp and heartbreaking – and full of an enormous amount of hope." —Jami Attenberg, Author of All This Could Be Yours

"Gonzalez's debut collection crackles with humor and tension in brilliantly crafted stories about food and relationships. Throughout, Gonzalez works multiple registers, creating rich, compressed portraits of his characters. This is as poignant as it is hilarious." —Publishers Weekly

"Gonzalez's first story collection, which can be read in a single sitting, features bisexual and gay Puerto Rican protagonists and narrators. Food is compellingly centered in the lives of these queer characters to provocative effect." —Emily Dziuban, Booklist

"Gonzalez does such an excellent job showing readers tender, kind, humorous, and vulnerable moments within these 15 stories, depicting emotions that aren't often witnessed. I will think about this collection forever." —Real Simple

"This debut collection moves seamlessly between diners, bedrooms and bachelor parties as its mostly bisexual Puerto Rican narrators indulge in moments of desire, shame and grief. Food is ever abundant — lobster meat, platters of fries, mushy vegan recipes — but what really holds these stories together is a singular, unapologetic voice." —New York Times
Santa Fe Writer's Project, 9781951631215, 115pp.
Publication Date: December 1, 2021
About the Author
Christopher Gonzalez is a co-fiction editor of Barrelhouse Magazine. His writing has appeared in The Nation, Split Lip, Cosmonauts Avenue, Best Small Fictions, Forward: 21st Century Flash Fiction, and elsewhere. Raised in Cleveland, he now lives in Brooklyn, NY and spends his waking hours tweeting about Oscar Isaac, book publishing, trash television, and Popeyes' Spicy Chicken Sandwich @livesinpages.