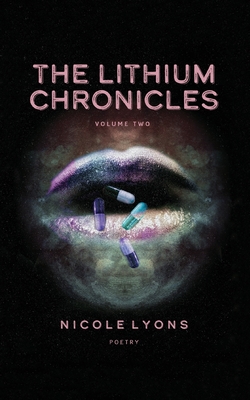 The Lithium Chronicles Volume Two
Paperback

* Individual store prices may vary.
Description
Raw. Fierce. Brave. Brazen. Honest. These words are often (and accurately) used to describe Nicole Lyons' writing. She has also been called a crazy bitch; the real burn is that Nicole lives so much inside her truths, she's able to say, "Yes. I am a crazy bitch." One of the things her fans admire most about Lyons is that she never allows naysayers to hold power over her. Lyons takes what is meant to be derogatory and makes it into a crown. Bipolar Affective Disorder, however, doesn't genuflect before her; BAD is always seeking to usurp the reign she has over herself.
In her fifth collection of poetry, Lyons is more raw, urgent, and intimate than ever before. She grabs the reader by the throat and does not let go until she has said everything she came to say. By the end of this exhilarating journey, we will have seen the things that have made her into a humble woman, and we will respect her all the more.
Indie Blue Publishing LLC, 9781951724016, 160pp.
Publication Date: December 23, 2019