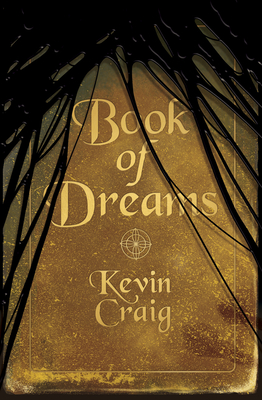 Book of Dreams
Paperback

* Individual store prices may vary.
Description
Gaige's curiosity gets the better of him when he discovers a bookstore on an abandoned street where no bookstore should be.

He steps inside and is immediately enthralled by its antiquarian sights and smells. But one book in particular calls to him. It isn't long before he gets a bad feeling about it, but it's already too late. The store's aged bookseller gives him no alternative: once he touches the book, it's his—whether he wants it or not. It's bought and paid for and there are no returns. 

The book leads Gaige on a horrific descent into the unknown. As he falls into the depths of its pages, he loses blocks of time, and his friends become trapped inside ancient cellars with seemingly no means of escape. Gaige soon learns that the ancient bookseller is a notorious serial killer from previous century, and fears that he has fallen into a predicament from which he may not escape.

When all seems lost, he finds the one person he can turn to for help—Mael, a sweet boy also trapped inside the book who didn't fall for the bookseller's tricks.

Together, they race against time to protect Gaige from joining a long string of boys who vanished without a trace inside the Book of Dreams.
Praise For Book of Dreams…
"Kevin Craig's Book of Dreams takes readers on a supernatural thrill ride where nightmares and reality merge. With a fast-paced plot full of unexpected twists and turns, this pulse-pounding novel about a close-knit group of teens will keep you reading late into the night, even if you have to keep the lights on to do it! Fans of Stranger Things, Coraline, and Wilder Girls, will find much to enjoy here. I loved this dark and twisted supernatural tale!" —Danika Stone, author of Switchback and All the Feels 
 

"With Book of Dreams, Kevin Craig has gifted us with an earnest, heartfelt journey of self-acceptance wrapped up in a beautiful nightmare that evokes the very best of Victoria Schwab and Neil Gaiman. Read this one with the lights on." —Shaun David Hutchinson, author of We Are the Ants, Before We Disappear, Howl, and more

Praise for Kevin Craig's IBPA Benjamin Franklin Silver Award winning The Camino Club (2020):
"Kevin Craig's The Camino Club is an intricately woven story of laughter and heartbreak, loss and love. In it, six troubled teens take a journey through the heart of Spain alongside their court-assigned counselors, finding their way through the issues that brought them together. Funny and poignant, this story of friendship and falling in love will remind you that our paths are not defined by our pasts, but the choices we make each day." —Danika Stone, author of All the Feels, Internet Famous, and Switchback
"Often hilarious and always heartfelt, The Camino Club is an uplifting story about six mismatched teens on the journey of a lifetime, who learn that the only way to get over the past and headed for the future is to live in the moment." —Tom Ryan, author of Keep This to Yourself and I Hope You're Listening
​"The evocative, lush writing inspires vivid imagery of the Camino de Santiago and will almost make readers wish they had a crime to erase with a pilgrimage of their own." —Booklist
"A vivid Spanish countryside setting and captivating journey bring new depth to a classic architecture." —Kirkus Reviews
Interlude Press - Duet Books, 9781951954192, 290pp.
Publication Date: September 13, 2022
About the Author
Kevin Craig is the author of several young adult novels. Their most recent title, The Camino Club, was the 2021 Silver Winner of the Independent Book Publishers Association's Benjamin Franklin Award. Kevin is a five-time recipient of the Muskoka Novel Marathon's Best Novel Award. As a playwright, Kevin has had twelve plays produced for the stage. Kevin lives in Toronto, Canada. As an avid explorer, they can also be found traveling the world with their significant other, Michael.