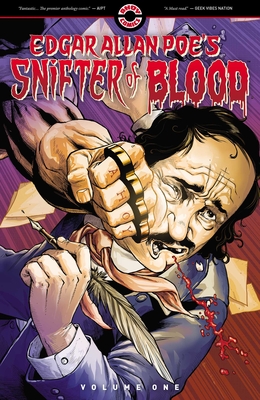 Edgar Allan Poe's Snifter of Blood (Edgar Allan Poe's Snifter of Terror)
Paperback

* Individual store prices may vary.
Description
The Snifter of Terror returns with an all-star snark-fest under a bloody new title - Edgar Allan Poe's Snifter of Blood!

Edgar Allan Poe's Snifter of Blood continues to cheaply exploit the great Edgar Allan Poe's reputation! The collection combines 6 issues' worth of anthologies including a take on how the 1% would fare in "Masque of the Red Death" by Tom Peyer and Alan Robinson, Sherlock Holmes's investigation of murders from two Poe stories by Paul Cornell (Doctor Who) and Greg Scott, an update on the "Tell-Tale Heart", and more. Oh, and did we mention the new Cereal Monsters story from Mark Russell and Peter Snejberg?
Praise For Edgar Allan Poe's Snifter of Blood (Edgar Allan Poe's Snifter of Terror)…
"Fun and wild-spirited… hilariously terrifying… darkly humorous and definitely well above the blood alcohol content."
— John Soltes

"Delightful… There's really nothing else quite like Snifter of Blood on the stands right now, in part because each issue just keeps revealing more of what it is and can be. Yes, it's a 'Horror Host Anthology' comic in the classic sense, building on the familiar structure imposed by things like Tales from the Crypt, but it's also a deeply funny book even beyond the kind of gallows humor you might expect from a comic building on that tradition.… I'm just extremely glad that a book like Edgar Allan Poe's Snifter of Blood is out there in the world right now, keeping certain comics traditions alive and creating new ones at the same time."
— Matthew Jackson
AHOY Comics, 9781952090080, 144pp.
Publication Date: October 5, 2021
About the Author
PAUL CORNELL is a writer of science fiction and fantasy in prose, comics and TV, one of only two people to be Hugo Award-nominated for all three media. He's written Doctor Who for the BBC, Action Comics for DC, and Wolverine for Marvel. He's won the BSFA Award for his short fiction, an Eagle Award for his comics, and shares in a Writer's Guild Award for his television. He lives in Gloucestershire with his wife and son.

Russ Braun has been drawing comics for almost 30 years, with time away for a 7 year stint with Walt Disney Feature Animation. Known for his expressive character work and storytelling on everything from Batman, Swamp Thing, Fables and Jack of Fables, but perhaps best know for his frequent collaborations with Garth Ennis. You can find his work on russ-braun.com and on Instagram at russ.braun.589.

Mark Russell is the GLAAD and Eisner Award-winning writer behind The Flintstones, Second Coming, Billionaire Island, and Superman: Space Age, as well as many other comic book series. He is also the author of two books.



Peter Snejbjerg draws drawings for a living and has done so for many years. He has worked for a number of American and international comic book publishers. He lives in Copenhagen, Denmark.

Rachel Pollack is the author of 41 books, including two award-winning novels, Unquenchable Fire and Godmother Night. Her comics work includes Doom Patrol, The New Gods, Tomahawk, The Geek, and Time Breakers. She has also written a series of books about Tarot cards that have sold all over the world, and is the creator of The Shining Tribe Tarot, designed and drawn by Rachel herself. Rachel has taught, lectured, and presented her work on four continents.

This slope-shouldered industry veteran was a long-running writer on DC's Legion of Super-Heroes, a founding editor at their Vertigo imprint, and the proud writer of their worst-selling, award-losing series Hourman.

He has since written enough major characters to fill one of those hyper-populated super-hero posters where you don't know who to look at first.

Today he happily writes and edits AHOY Comics from his Ditkoesque office in Downtown Syracuse, NY.

Tyrone Finch hails from Cleveland, Ohio. What? That's not enough? Okay, his favorite color is blue, he's not fond of green olives and he doesn't understand maraschino cherries. He loves Earth, Wind and Fire and he will make you love them too. Finch likes to write all kinds of stuff. TV stuff. Movie stuff. Short story stuff. Shopping list stuff. For more info on the stuff he likes to write, catch him on the street and ask him. He's the guy wearing the yellow Walkman and singing "On Your Face" at the top of his lungs. (Yeah, he's off-key, but at least he's loud.)
or
Not Currently Available for Direct Purchase