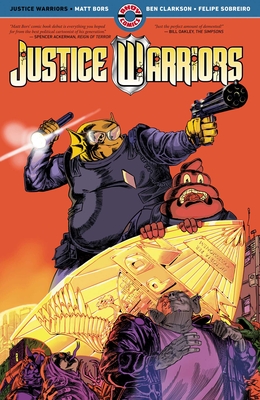 Justice Warriors
Paperback

* Individual store prices may vary.
Description
Matt Bors — the founder of The Nib and a political cartoonist who has twice been named a Pulitzer Prize finalist — and Ben Clarkson — an acclaimed filmmaker and illustrator whose art has been featured on Adult Swim and Vice Noisey — have teamed up to create JUSTICE WARRIORS!

The acclaimed dystopian satire, written and co-created by Pulitzer Prize finalist Matt Bors! Welcome to Bubble City - the world's first perfect city. A bustling metropolis flourishes inside its protective shell, a city of equality, diversity, and prosperity, with no crime whatsoever. But outside of the Bubble lies the Uninhabited Zone, a densely populated and vast slum where the majority of the mutant population actually lives.

After his partner is killed in the line of duty—run over by a self-driving bus—Bubble City's veteran Swamp Cop is partnered with rookie, Schitt. The increasingly cynical Swamp Cop becomes obsessed with arresting or killing the bus, as he begins to suffer PTSD. Haunted by hallucinations of his dead partner, Swamp Cop is determined to show the naive rookie Schitt that you can only police the UZ by bending every rule in the book.
Praise For Justice Warriors…
"If you had your developing mind warped by Teenage Mutant Ninja Turtles, GI Joe, Robocop and comic books, and then had it further destroyed by twitter and social media, then JUSTICE WARRIORS will fill those holes in your brain. Ben Clarkson is truly goated on the inks."
— Will Menaker (Author of The Chapo Guide to Revolution, Co-Host of "Chapo Traphouse")

"Matt Bors' comic book debut is everything you hoped for from the best political cartoonist of his generation. Teamed up with visionary storyteller Ben Clarkson, JUSTICE WARRIORS gives you searing satire, at least one hilarious moment per scene and unrestrained fury at the horrors before us. Read the scene that the NYPD literally brought to life!"
— Spencer Ackerman (Author of Reign of Terror)

"Justice Warriors #1 is, at its core, a rich satirical tale of America's overconsumption and over-policing issues, where the elite conglomerates govern the many, wringing out people's wallets in a trickle-down economy. Bors and Clarkson present such heavy themes with ease, albeit in an over-the-top fashion, making fun of established tropes and using banter to bring the irony to the foreground."
— Sayantan Gayen

"This is the type of comic that comes around once in a while and reminds you what the form can achieve. Both creators deserve praise for what they've made here. It's hard to believe anyone that reads comics wouldn't enjoy this."
— Alex McDonald
AHOY Comics, 9781952090226, 168pp.
Publication Date: February 21, 2023