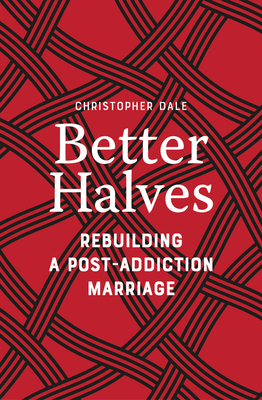 Better Halves
Rebuilding a Post-Addiction Marriage
Paperback

* Individual store prices may vary.
Description
The odds of salvaging your marriage in the wake of addiction may seem fairly bleak. Couples who struggle with substance abuse in one or both partners have a divorce rate of about half. Statistically, a relationship is more likely to survive the loss of a child. Outpatient rehabilitation is a $30 billion business in the United States, and tens of thousands of active support groups exist to help people recover from addictions. With such resources available, why is sustaining a marriage post-sobriety such a riddle? As Christopher Dale discovered, the "cure" can be as stressful as addiction. Recovery is a life-long process that brings permanent changes to both those battling substance abuse and their long-term partners. Accepting the loss of the marriage they had before his sobriety allowed Christopher and his wife to recommit to a new form of relationship—one based on an honest outlook of recovery. That journey is documented, in all its trials, traumas, and successes, so that other couples who find their connection buckling under the weight of addiction—and recovery—have a path and process to becoming Better Halves.
Praise For Better Halves: Rebuilding a Post-Addiction Marriage…
"This is one of those complicated and serious issues that many couples experience, and that only someone who has gone through should write about. No one is more equipped to provide insight and suggest solutions than Christopher Dale. This is one of those complicated and serious issues that so many couples experience, and that only someone who has gone through should write about in depth." —Leonard Buschel, Founder of Writers in Treatment and Editor-in-Chief of Addiction/Recovery eBulletin

"A brave and thoughtful look at how sobriety and the brutal honesty it requires can enrich a marriage as surely as addiction can ruin it" —Bill Lueders, Editor, The Progressive

"The searing honesty, unsparing detail and limitless quest for truth with which Dale writes will be an immeasurable help to those looking at a broken life, a broken love or a broken trust, and who want help understanding how it all goes back together again." —Gabriel Nathan, Editor-in-Chief, OC87 Recovery Diaries

"An insightful and meaningful contribution to one of the most under-discussed topics of the addiction crisis—marriage. Better Halves is a well written and prescriptive read for any person or couple navigating the trials and tribulations of addiction and recovery." —Ryan Hampton, National addiction recovery advocate, author of American Fix and Unsettled

"Anyone who has lived with—or suspects they may be living with—an addict or alcoholic will glean insight from this eye-opening work." —Ahbra Schiff, Co-Director, Reel Recovery Film Festival

"By combining the details of his own personal addiction journey with hard-won and common-sense direction, Dale provides a roadmap for people in relationships to rediscover and heal their underlying bond."—Allison McCabe, Editor-in-Chief of The Fix

"Christopher Dale provides practical guidance for restoring balance between partners, walking couples through the uniquely challenging but infinitely rewarding journey of sobriety and long-term recovery."--hopetocope.com
Thorntree Press, 9781952125256, 280pp.
Publication Date: November 4, 2022
About the Author
Christopher Dale is an experienced public relations professional, writer and recovering addict. He has been published in a wide range of prominent outlets, including The Daily Beast, Salon, Parents.com, Dogster, New York Daily News and Tribune Syndicate. He writes on a wide range of topics, including addiction, mental health, politics, parenting, travel and rescue dog advocacy.