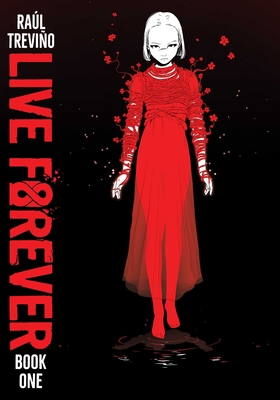 Live Forever Volume 1
Paperback

* Individual store prices may vary.
Description
After a tragedy, Sarah's conviction to never lose another loved one drives her to discover a formula for eternal life that provokes a fatal crisis.

LIVE FOREVER is a supernatural thriller about finding the formula for eternal life. You will witness the conflicts of a teenager who gets what she wants, but sometimes with serious consequences. If you like characters with guts, surprising moments and stories that not only entertain but inspire reflection, this is the comic for you.

"LIVE FOREVER was fun to do, but it also helped me cope with the loss of my brother. And this is what makes it special to me. It is a story that brims friendship and grief. It has been a healing experience. It's not only kept my mind busy, but it helped me to understand what I was feeling. I feel proud of the way it ended, and the reflection the main character's journey offers." - Raúl Trevino
Rocketship Entertainment, 9781952126284, 240pp.
Publication Date: February 14, 2023
About the Author
Raul Trevino is a Mexican comic artist and writer living in Japan. Raul illustrated Sombra, written by Justin Jordan (Urban Animal) and published by BOOM! Studios. He wrote and illustrated the webcomics Live Forever and Magic Soda Pop at Webtoon. His work has been honored with several awards and nominations in Spain and Mexico. He was awarded Best Writer at the 2014 Butze-Vargas Awards for Mexico's Best Comics for the popular series Tinkers of the Wasteland, which was originally a webcomic that spanned three years of publication before it was later collected and published by Scout Comics.