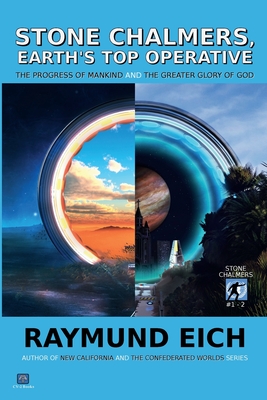 Stone Chalmers, Earth's Top Operative
The Progress of Mankind and The Greater Glory of God (Stone Chalmers #1-2)
Paperback

* Individual store prices may vary.
Description
Earth barely survived the 21st Century. Nuclear terrorism, civil war, and famine killed billions. Thousands fled on warpdrive ships to planets around distant suns.
After the United Nations gained control over Earth, it opened wormholes to the colonies, to prevent a repeat of chaos on a galactic scale.
Enter operative Stone Chalmers. Spy. Assassin. Instrument maintaining the UN's order on the galaxy. Opposing him are hostile forces on colony worlds... and within the UN itself.
The Progress of Mankind
On New Moravia, Stone's investigation of an operative's murder turns into a race against the clock to defeat rebels seeking to kill UN heads of state--and tens of thousands of colonists.
The Greater Glory of God
On Trinity, Stone and an unwanted partner must infiltrate a group of religious fanatics out to recover the ultimate prize: the last warpdrive ship outside UN control.
CV-2 Books, 9781952220012, 410pp.
Publication Date: April 21, 2020