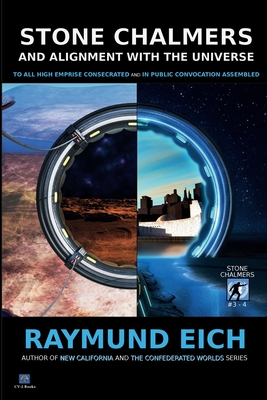 Stone Chalmers and Alignment With the Universe
To All High Emprise and In Public Convocation Assembled (Stone Chalmers #3-4)
Paperback

* Individual store prices may vary.
Description
Earth barely survived the 21st Century. Nuclear terrorism, civil war, and famine killed billions. Thousands fled on warpdrive ships to planets around distant suns.
After the United Nations gained control over Earth, it opened wormholes to the colonies, to prevent a repeat of chaos on a galactic scale.
Enter operative Stone Chalmers. Spy. Assassin. Instrument maintaining the UN's order on the galaxy. Then he encountered a strange new colonial faith that promised all mankind Alignment with the Universe.
To All High Emprise Consecrated
On Minerva, while workers prepare a wormhole link to Earth, Stone uncovers a plot to shake to the core the UN--and himself.
In Public Convocation Assembled
On Earth, Stone plays for the ultimate stakes. Success will transform Earth and the galaxy forever. Failure will doom Earth to the greatest chaos of all time.
CV-2 Books, 9781952220029, 392pp.
Publication Date: April 21, 2020