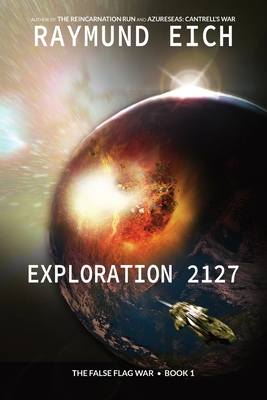 Exploration 2127
Paperback

* Individual store prices may vary.
Description
Concordia's mission reflected the best of the human race. Crew and scientists from both of Earth's rival factions journeyed for years at relativistic speeds to reach Bravo Charlie, a life-bearing planet orbiting Alpha Centauri B, to expand the frontiers of knowledge for all.
Concordia's mission also reflected humanity at its worst. Corrupt bureaucrats and ambitious political leaders in both factions maintained a status quo backed by weapons of mass destruction. The faction commanders on the mission each sought to seize advantages for their side alone.
Then the ship received transmissions. Signs of an ancient alien presence buried on the planet.
Sent to explore, Jaeger and McIlroy, born and raised in a Texas divided by razor wire and minefields. Men torn between the mission's ideals and orders from their faction commanders.
When they discover the prize left by aliens dead over a million years, the future of the human race will change forever.
CV-2 Books, 9781952220081, 234pp.
Publication Date: October 12, 2021