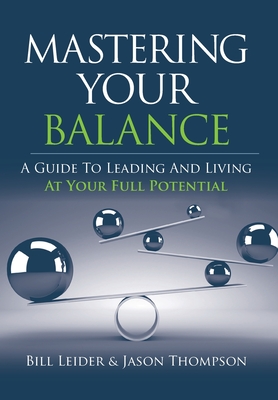 Mastering Your Balance
A Guide to Leading and Living at Your Full Potential
Hardcover

* Individual store prices may vary.
Description
What would it take to raise an organization's level of performance from acceptable to exceptional?
This book explores and provides solid answers to that fundamental question.
Bill Leider and Jason Thompson, the managing partners of Axies Group, have decades of experience in successfully leading, consulting for, advising and coaching leaders and their organizations, from ambitious start-ups to Fortune 500 companies, across a wide range of industries.
Taking the lessons learned from their experiences, they have developed a unique, highly effective model that creates the context within which any organization can reach a level of balance that will enable them to perform at their full potential and achieve unimagined goals-in growth, earnings and fulfillment.
Mastering Your Balance takes you on the road to understanding and brilliantly executing the subtle elements of balance in ways that enable you to do what it would take to operate at your full potential. It illustrates the ways in which you can overcome your self-limiting beliefs and embrace new possibilities that are within your grasp as you come to realize that you are more than you think you are. By employing the right elements of balance, solid leadership approaches, and the proven findings of neuroscience and behavioral science, this book offers a powerful, achievable, unique path to mastery that can move you to a place you never before imagined.
Indie Books International, 9781952233531, 180pp.
Publication Date: March 3, 2021