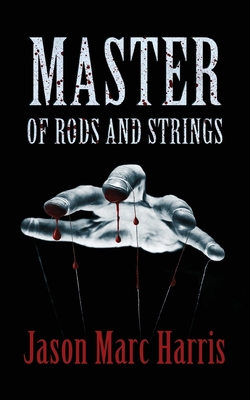 Master of Rods and Strings
Paperback

* Individual store prices may vary.
Description
Jealous of the attention lavished upon the puppetry talents of his dear sister-and tormented by visions of her torture at the hands of his mysterious Uncle Pavan, who recruited her for his arcane school-Elias is determined to learn the true nature of occult puppetry, no matter the hideous costs, in order to exact vengeance.
"Jason Marc Harris's Master of Rods and Strings is a masterful work the likes of which I have not read in many years. . . .] In captivating and expert prose, Master of Rods and Strings brings to life a world where the enchantment of puppetry inexorably descends into a magical perdition."
-Thomas Ligotti
"A magically unnerving tale of loyalty, artistic passion, and revenge that digs into your skin and pulls you through the back alleys of period France. Harris assuredly directs his characters with the precision of a puppeteer through this fever dream of a novella."
-Sequoia Nagamatsu, author of Where We Go When All We Were Is Gone
"Strange and compelling, Master of Rods and Strings is a fantastic foray into the realm of occult puppetry. Like Patrick Suskind's Perfume, this book is memorable for its vivid sensory detail and portrayal of an obsessive protagonist exploring an arcane world." -Susan Hubbard, author of the Ethical Vampire Series
"It's a rare pleasure . . .] to find a new author whose horror fiction is truly compelling. But this year, Jason Marc Harris is that author, and Master of Rods and Strings is a morbidly fascinating little book" Alex Skopic, Signal Horizon Magazine
Vernacular Books, 9781952283154, 92pp.
Publication Date: July 6, 2021