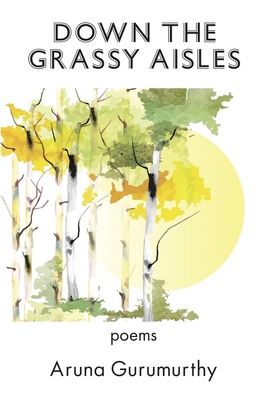 Down the Grassy Aisles
Paperback

* Individual store prices may vary.
Description
Aruna Gurumurthy is an American author and observer of human nature. Since her childhood in Mumbai, India, she has embarked on a journey of creative exploration. Her poems have appeared in literary journals, regional anthologies and numerous poetry collections since 2015. Aruna is part of the thriving Southern literary community. She lives with her loving family, including her husband and young daughter, in Chapel Hill, North Carolina.
Enlivened with winsome wordplay and verve, each of these prose poems is a small rapture, celebrating "the synthesis of ideas" as well as the surprises of romantic and familial love. With allusions to popular music, the palette of nature, and the aromas of kitchen spices, Gurumurthy invites us on a journey of the senses from "the grassy aisles" of Mumbai, India, to a research lab in Berkeley, California, to a hometown coffeehouse. Let this collection give you "a musical glow, an oomph to the soul."
-Jeanne Julian, author of Like the O in Hope
Aruna Gurumurthy draws from ancient and modern verse-Sappho, Rumi, and neo-confessionalism-reveling in alternately diaristic and parabolic narratives. Navigating experiences of awe, terror, and metamorphosis, she enraptures a reader, her prose poems at once enlightening, delightful, and transportive.
-John Amen, editor of Pedestal Magazine
These prose poems are rich with sensory detail, suffused with the love of family and wonder at the natural world. While Aruna invokes other musicians in her book, it's The Beatles I hear-a soundtrack for this swirling synesthetic journey that takes us from India to the Ponte Vecchio to Berkeley. Joy awaits on every page-immerse yourself
-Valerie Nieman, author of Leopard Lady: A Life in Verse
Kelsay Books, 9781952326066, 42pp.
Publication Date: August 19, 2020