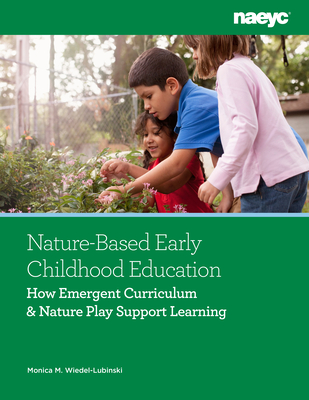 Nature-Based Early Childhood Education
How Emergent Curriculum and Nature Play Support Learning
Paperback

* Individual store prices may vary.
Description
Bring to life the power of nature-based pedagogy and emergent curriculum to enhance learning for children. This book will clarify how to implement seasonal, nature-based, emergent curriculum with practical strategies for indoor and outdoor settings. Emergent curriculum is an approach that engages with children's interests to plan curriculum, in contrast to teachers planning the curriculum around a theme without input from children.
Emergent curriculum is a central feature of NBECE, yet it is widely misunderstood in the context of outdoor learning. Readers will discover how emergent curriculum underpins NBECE pedagogy in lockstep with developmentally appropriate practices. This book provides a definition of nature-based early childhood education (NBECE) as it is applied in American early childhood settings. Each chapter contains topics that form the backbone of a nature pedagogy framework.
Learning in nature is certainly not a new concept. It is as old as time and human existence. But in recent years, a renewed interest to unplug and get back to basics has brought this movement to the forefront of early childhood education. Until now, nature-based approaches have been loosely lumped into a bucket of environmental education, outdoor education, or recreation unless a school or program explicitly refers to itself as a forest or nature preschool, forest kindergarten, or something similarly named. This book defines nature-based early childhood education as its own educational philosophy. And while it is already being applied in forest and nature preschools, it is spreading into every imaginable early learning environment.
At the opening of each chapter, you will find Guiding Questions as a starting point for reading. There are further Reflection Questions at the conclusion of each chapter to encourage more thought about what you have read. These questions may challenge previously held beliefs or practices as you examine how to apply new knowledge to your unique setting. The Teacher's Call to Action is a related challenge to help you deepen your understanding of nature pedagogy.
Each chapter also includes examples of how NBECE is applied in programs across the United States. Research and best practices from nature-based early childhood education experts provide diverse perspectives for you to consider. An appendix includes workbook-style templates that teachers can pull out for outdoor/classroom use, to advocate with families/communities, communicate with parents, assess/reflect on their program and staff, document authentic learning.
The foreword will be written by David Sobel who has spent the last twenty-five years working in the field of child development, place-based education, and parenting with nature. He currently serves as Senior Faculty in the Education Department at Antioch University New England in Keene, NH. His expertise and passion has led to authoring seven previous books and being identified as one of the "gurus and rock stars of environmental education" by Teacher magazine.
National Association for the Education of You, 9781952331060, 152pp.
Publication Date: February 28, 2023
About the Author
Monica Wiedel-Lubinski has over 20 years of experience in nature-based education. She is the founding Director of the Eastern Region Association of Forest and Nature Schools (ERAFANS) started in 2017 and co-founder of Wild Haven Forest Preschool in Baltimore. ERAFANS offers professional services for teachers, naturalists, administrators, and others working in nature-based early childhood education serve young children birth through age eight. She previously worked at the Irvine Nature Center in Maryland where she was the founding director of The Nature Preschool. She was a key collaborator in the design of a Nature Explore Outdoor Classroom and visioned an annual Nature Preschool Conference (2012), which earned a 2016 Innovator of the Year Award under her leadership. She is the coauthor of Nature Play Workshop for Families (2020).