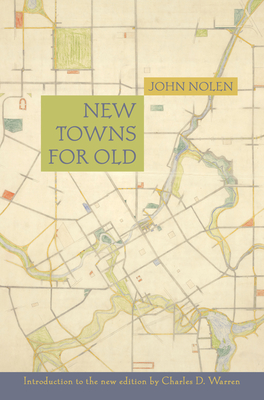 New Towns for Old
Paperback

* Individual store prices may vary.
Other Editions of This Title:
Hardcover (5/1/2005)
Description
John Nolen (1869-1937) was a pioneer in the development of professional town and city planning in the United States. Nolen's comprehensive approach merged the social, economic, and physical aspects of planning while emphasizing, in the author's words, "versatility, special knowledge, and cooperation." Between 1905 and 1937, Nolen's firm, based in Cambridge, Massachusetts, completed more than 350 commissions throughout the United States. Among the best known of these is Mariemont, Ohio, whose development Nolen directed from the ground up.Rare and long out of print, New Towns for Old (1927) is still of great interest to planners and urban historians. The well-illustrated study contains an overview of the development of American urbanism and a concise discussion of Nolen's ideas for the improvement of towns and cities. Individual chapters examine a variety of towns planned by Nolen including Mariemont, Ohio; Kingsport, Tennessee; and Kistler, Pennsylvania, as well as the new suburbs of Union Park Gardens in Wilmington, Delaware, and Myers Park in Charlotte, North Carolina. The re-planned towns of Cohasset and Walpole, Massachusetts, are also featured. The forward-looking final chapter includes material on Venice, Florida, one of Nolen's most ambitious projects.The new edition of New Towns for Old contains additional plans and illustrations, a new index, and a new introductory essay by Charles D. Warren, which presents biographical and historical context that illuminates the diverse, productive career of this nationally significant practitioner. Perhaps most significantly, it features Nolen's project list, which has never before been published. "Early in the last century, John Nolen planned model towns, garden suburbs, and industrial cities, whose refinement and design excellence remain impressive to this day. In New Towns for Old, Nolen explained how it was done. Thoughtful, wise, and still inspirational."--Witold Rybczynski, author of A Clearing in the Distance: Frederick Law Olmsted and America in the Nineteenth Century "Warren, a New York City-based architect, provides incredible insights into the evolution of Nolen's career. . . . We would all benefit from reading this book, especially to brush up on the planning techniques and to realize Nolen's achievements in civic improvement."--New Urban Review.
Library of American Landscape History, 9781952620317, 432pp.
Publication Date: October 7, 2021