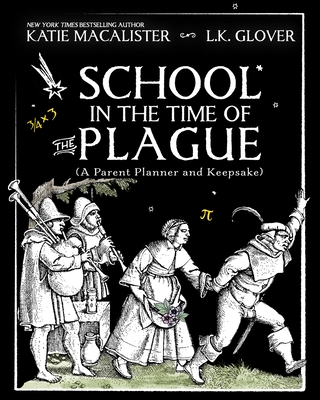 School in the Time of the Plague (Paperback)
Bee and Moon, 9781952737169, 184pp.
Publication Date: August 9, 2020
* Individual store prices may vary.
Description
Online? In-person? Hybrid? A/B rotation? Daily schedules? Block schedules? Required teacher check-ins? It's enough to make a person's head spin. Ours did, so we designed this planner to specifically address challenges students and parents are facing now.
The tongue-in-cheek medieval style adds an element of fun (because, even in the time of the black plague, people found ways to educate kids and entertain themselves).
Perfect for single parents, working parents, stay-at-home parents, day-care providers, teachers, students . . . anyone who wants to get a handle on the ever-changing landscape of education today.
This planner has it all Published in a popular and convenient 8 x 10 format, and at 184 pages in length, you'll have ample room to write everything you need to get this school year under control.
Features:
- Forty weeks' worth of planning pages (enough for an academic year)
- Undated-allows flexibility in start/stop dates
- Designated daily schedule, with Monday-thru-Friday completion check-boxes
- Week-at-a-glance grid
- Weekly assignments/important notes-enough for 8 classes/subjects
- Emotional check-in (are things spritely . . . or is the bile a bit black?)
- Tracker to ensure screen breaks
- Tracker to encourage fresh air (exercise Recess )
- Goals: big goal for the week, along with smaller goals
- Notes: A place for you to jot notes on how things are going (a fun keepsake item).
- Bonus pages, which include:
o Expense Ledger;
o Keeper of the Keys (logon information for all of those pesky websites/classes);
o Contacts (names/email/phone);
o Page of Wayward Sticky Notes (two pages, actually, because we all have lots of sticky notes);
o Ideas for Fun and Frolic;
o Notes to My Future Self;
o Pages of an Indeterminate Nature (use however you wish);
o Three years' worth of annual calendars with space to list important dates;
o Pen/Marker Test Page
School in the Time of the Plague. Be a most-proficient Lord or Lady of your manor-and don't get thrown on the cart
or
Not Currently Available for Direct Purchase