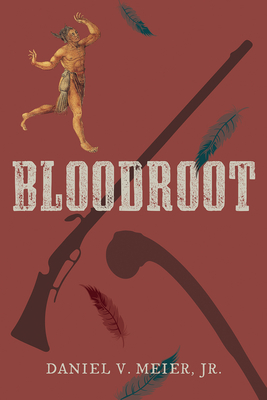 Bloodroot
Paperback

* Individual store prices may vary.
Description
The beauty and the horrors of Jamestown 2609

A gripping account of survival in America's earliest settlement, Jamestown, Virginia.

Virginia, 1622. Powhatan warriors prepare war paint from the sacred juice of the bloodroot plant, but Nehiegh, The English son-in-law of Chief Ochawintan has sworn never to kill again. He must leave before the massacre.

England 1609. Matthew did not trust his friend, Richard's stories of Paradise in the Jamestown settlement, but nothing could have equipped him for the violence and privation that awaited him in this savage land.

Once ashore in the fledging settlement, Matthew experiences the unimaginable beauty of this pristine land and learns the meaning of hope, but it all turns into a nightmare as gold mania infests the community and Indians become an increasing threat. The nightmare only gets worse as the harsh winter brings on "the starving time" and all the grizzly horrors of a desperate and dying community that come with it.

Driven to the depths of despair by the guilt of his sins against Richard and his lust for that man's wife, Matthew seeks death.

In that moment of crisis, when he chooses death over a life of depravity, he unexpectedly finds new life among his sworn enemy, the Powhatan Indians.

What will this new life mean for Matthew, and will he survive?
Praise For Bloodroot…
"Meier effectively juggles historical detail and sense of place, story arc, characterizations, and artistic imagination to create an atmospheric, theatrical study of humanity's best and worst traits and the unwieldy juxtaposition between them." —US Review of Books

On The Dung Beetles of Liberia: "Rugged, riveting, packed with exotic adventure and attitude, Meier's Dung Beetles in non-stop entertainment" —Douglas Rogers, author of The Last Resort and Two Weeks in November 

"Highly recommend reading - in fact this should be on the prescribed reading list of every high school as a window on a continent with a different way of life and a different mindset. Welcome to the world of Africa"—Lucinda E. Clarke, author of Amie African Adventure series

 

On Daniel V. Meier, Jr. as a writer: "With a gift for portraying dialect, character quirks, and the intricacies of combining salient details of his youthful adventures with fictional flights of fancy, Meier flies readers on this soaring, literary saga that will leave them clamoring for a sequel" —Kate Robinson, U.S. Review of Books

"History and fiction blend perfectly in this vivid account of early settlement in an unforgiving new land where morals are tested and sins are committed." —Publishers Weekly

"A thoughtful and historically exacting tale of a treacherous New World." Kirkus Reviews
BQB Publishing, 9781952782046, 376pp.
Publication Date: August 1, 2021
About the Author
A retired Aviation Safety Inspector for the FAA, Daniel V. Meier, Jr. has always had a passion for writing. In addition to Bloodroot, he is the author of the award-winning historical novel, The Dung Beetles of Liberia, released in September 2019, and the literary novel, No Birds Sing Here, released in March 2021, both by BQB Publishing. Dan and his wife live in Owings, Maryland, and when he's not writing, they spend their summers sailing on the Chesapeake Bay.