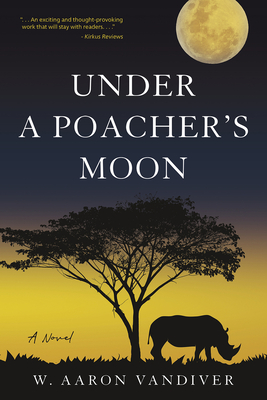 Under a Poacher's Moon
A Novel (Poacher's Moon series)
Paperback

* Individual store prices may vary.
Description
In this explosive debut novel, W. Aaron Vandiver takes readers into the South African Bush, with its stunning landscapes, its dazzling and deadly wildlife, and its dark underbelly of violence. Against this dramatic backdrop, Under a Poacher's Moon tells an unflinching story of two people who fight desperately to save Africa's wildlife, sometimes with tragic unintended consequences, as they search for passion and meaning in a dangerous and unpredictable world.

Anna Whitney travels to Mzansi, a remote safari lodge located deep in the wilds of South Africa, hoping to get as far away from home and her troubled life as possible. The perilous beauty of the land captures her imagination, but when she hears the haunting late-night cries of an injured rhino, her escapist fantasies collide with brutal reality. She and Chris, a safari guide wrestling with his own secret demons, find themselves embroiled in a war on Africa's wildlife.

They are pulled into a struggle that brings them face-to-face with shocking acts of violence, rogue officials, armed gangs, vicious wild predators, and their own deepest fears. It is a conflict that threatens to destroy them, or lead them toward a new and better life together.
Praise For Under a Poacher's Moon: A Novel (Poacher's Moon series)…
"This is not a straightforward good-versus-evil story, but it is a complex and engaging one. An exciting and thought-provoking work that will stay with readers." —Kirkus

"An enlightening career account, personally candid and politically astute." —Kirkus

"Under a Poacher's Moon is a compelling, character-driven thriller that digs into Africa's beauty and poverty . . . it's alive with vivid descriptions of the African landscape and animals ('this terribly gorgeous specimen of muscle, sinew, teeth, claw, mane') plus memorable characters." —Booklife

"But the novel only truly takes off when Anna and Chris plunge into the bush, chasing after a band of poachers who committed a heartbreaking atrocity. Their pursuit is suspenseful and unpredictable." —Foreword Reviews
Boutique of Quality Books, 9781952782480, 205pp.
Publication Date: February 1, 2022
About the Author
W. Aaron Vandiver is an attorney and conservationist turned writer. Over the last decade he has worked to protect endangered species and threatened landscapes in Africa and elsewhere around the world. He lives in the Roaring Fork Valley of Colorado with his wife and two children (and their two beloved dogs.) Under a Poacher's Moon is his debut novel. For more information visit www.AaronVandiver.com