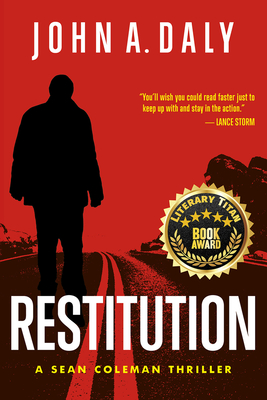 Restitution
A Sean Coleman Thriller (The Sean Coleman Thriller Series #5)
Paperback

* Individual store prices may vary.
Description
Few things are more dangerous than an unpaid debt.

"John Daly has a magical writing style, and his books keep you up late at night turning pages." - Dana Perino, former White House Press Secretary

"Restitution offers hard-hitting action spearheaded by a badass protagonist who talks the talk and walks the walk in a brutal story of surviving an unforgiving territory… Written in the vein of old-school stories of revenge, familial bonds, and relentless action, Restitution is a definite must-read." - Kashif Hussain, Best Thriller Books

"I think what impresses me the most about John Daly as a writer is his range. Restitution brings Sean Coleman fans the series' traditional strong sense of setting and mood, and clipped, realistic dialogue, and adds a refreshing, subtle sense of heart and hope amidst all the Vegas grit and Western landscapes of the Nevada desert." - Jim Geraghty, senior political correspondent of National Review and author of the Dangerous Clique thriller series

Life's gotten better for hard-edged security guard, Sean Coleman. With personal affairs in order and relationships rekindled, he travels to Las Vegas to help celebrate his buddy's last days as a bachelor. Soon after he arrives, however, a twist of fate spawns a reunion with an old flame.

Curiosity and a desire to make amends unexpectedly lead Sean down a dark path into the Vegas underground, where another face from the past emerges---a federal fugitive whose family, years earlier, altered the course of Sean's life.

A harrowing escape drops Sean in the barren wasteland of a Nevada desert, miles away from the glitz and glamor of Sin City. There, he must fight to stay alive against a well-armed group of men whose bloodlust and greed won't stop them from getting what they're after.
Praise For Restitution: A Sean Coleman Thriller (The Sean Coleman Thriller Series #5)…
"John Daly has a magical writing style, and his books keep you up late at night turning pages." —Dana Perino, former White House Press Secretary

"Safeguard is a fast, fun page-turner whose twists and turns kept me reading well into the night. John Daly delivers his mix of wry humor with pulse pounding action that keep you guessing til the very end. An entertaining, engaging read." —Megyn Kelly, television commentator

 

"Daly truly has the thriller's gift. Safeguard is a staggering tale. I couldn't put it down." —A. B. Stoddard, national political columnist & commentator

 

On John Daly as a writer: "Some writers are thoughtful. Some have style. John Daly has both. When I read his work, it's time well spent." —Bernard Goldberg, New York Times bestselling author of Bias

 

On Broken Slate: ". . . Sean Coleman is the kind of character that pisses you off - he's emotionally broken, often thoughtless, and sometimes a jerk. He's also loyal, honorable, and anything but a super hero. In short, John Daly's Sean Coleman is a lot like you and me." —Terry Schappert, U.S. Army Special Forces; host of Hollywood Weapons: Fact or Fiction

"Part of the reason why Daly's latest book works so well, both for newcomers and prior fans of Sean's world, is that it closely considers the elements of crime that affect not just the psyches of criminal decision-makers, but those that fight against them." —Diane C. Donovan, Midwest Book Review

"Congratulations on the release of your fifth published novel. Your rugged thriller series has generated a lot of buzz over the years, including praise from New York Times bestselling authors and literary awards in your home-state of Colorado."—Bernard Goldberg, Emmy-award winning journalist
BQB Publishing, 9781952782503, 410pp.
Publication Date: February 8, 2022
About the Author
A lifelong Coloradoan, John A. Daly graduated from the University of Northern Colorado with a business degree in computer information systems. He spent the next sixteen years developing accounting software and internet-based solutions. With a thirst for creative expression that went beyond the logic and absolutes of computer programming, John developed an interest in writing. He currently writes political, cultural, and media-analysis columns for multiple news publications, when he's not working on the next Sean Coleman thriller.