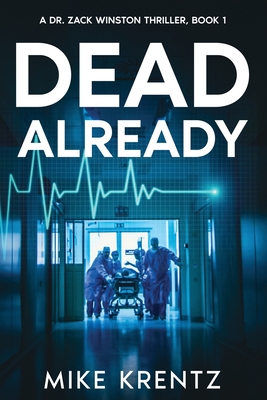 Dead Already
Paperback

* Individual store prices may vary.
Description
"...a nail-biter of a medical drama, reminiscent of Robin Cook's bestsellers." - Tammy Ruggles for Reader's Favorite
Suspicious deaths. Broken bonds. Lives in peril. Redemption.
Past-haunted emergency physician Zack Winston and case-hardened defense attorney Bridget Larsen battle a malicious malpractice suit. They uncover a medical conspiracy trading in drugs and murder. As they peel back layers of truth, past relationships and current alliances destabilize - threatening both their lives.
"Absolutely stunning This is the heart-stopping medical thriller I've waited for."
-Stella Cameron, NYT bestselling author.
"A heart-pounding thriller. Krentz taps his richly lived experience as an emergency physician and takes the reader on a deep dive into the medical challenges, legal battles, and lingering emotional wounds of Dr. Zack Winston. A page turner, with twists that surprise - and satisfy."
-Deborah Serani, award-winning author of THE NINTH SESSION.
"Krentz applies his insider's knowledge of the ER in a taut thriller that will rivet fans of medical dramas."
-Kimmery Martin, author of THE QUEEN OF HEARTS and THE ANTIDOTE FOR EVERYTHING.
"DEAD ALREADY opens on the adrenaline rush of emergency room action and never slows down. Murder, nuanced characters, and deadly secrets make for a roller-coaster thrill ride. The push-pull relationship between ER doc Zack Winston and defense lawyer Bridget Larsen rings true all the way to their plunge into life-threatening danger."
-Jayne Ann Krentz / Amanda Quick, NYT and USA Today bestselling author.
Touchpoint Press, 9781952816185, 340pp.
Publication Date: November 26, 2020