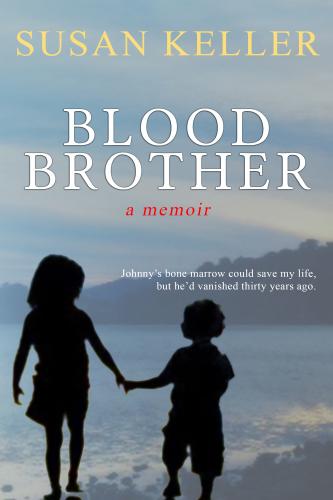 Blood Brother
A Memoir
Paperback

* Individual store prices may vary.
Description
Johnny's bone marrow could save her life, but he'd vanished thirty years earlier.

Blood Brother—an inspiring and nakedly honest memoir—reveals the hope, beauty, and meaning of grave illness.

As a happily married, fifty-five-year-old professional woman, Susan had it all—or thought she did—until the day of her shocking diagnosis with stage IV Mantle Cell Lymphoma, a rare and aggressive disease. Ninety-eight percent of her bone marrow was cancerous, and a heart attack or brain aneurism was imminent. Within minutes of being admitted to the hospital, her beautifully ordinary life disappeared.

Facing a possible death sentence, Susan experienced visions so lucid and beautiful that she imagined she was looking into the foyer of death or a magnificent afterlife. Her mind and body melded into all that surrounded her. Bliss replaced all fear.

But during the darkest moments, Susan questioned the nature of mortality. Does death have the same shape, sound, and feeling for everyone? Did the father she yearned for think of her the moment he died? What would she think of? Would there be regret, celebration, or nothingness?

After months of grueling inpatient chemo, she faced another seemingly impossible hurdle. To live, she needed a stem cell transplant. But Johnny—her brilliant, off-the-grid brother—was the only possible donor. He hadn't been heard from in thirty years.

Blood Brother is the story of curing an incurable cancer and of the enigmatic events that led to finding a man who never wanted to be found. It also explores why he disappeared and delves into what it means to forgive the parents who abused and abandoned them. Susan survived twice: once a violent childhood and secondly a devastating cancer.

Blood Brother is a life-affirming story of survivorship and hope against all odds. It's a moving tale of rebuilding a family, recognizing the unexpectedly stunning gifts of cancer, and of how to embrace a profoundly generous second chance at life.
Praise For Blood Brother: A Memoir…
"A beautiful story of the strength of the human spirit and fierce determination to live. I hope that others who have been faced with a cancer diagnosis will also find inspiration, healing, and closure in reading this most compelling memoir.... This book is insightful and illuminating. I highly recommend it to all readers."—Joanna Mimi Choi, M.D.

"Thanks, and praise to Susan Keller for her extraordinary medical memoir, Blood Brother. Though facing a potentially fatal illness can be terrifying, it's also a priceless opportunity to learn, reconnect, and heal. Susan captures and shares these major life changes in a truly accessible way.—Amy Ewing, M.D.

"I spent all [day] and most of the night reading Blood Brother and forced myself to stop at 3 AM (I just could not put it down!) It is truly an eye opener to see the whole illness process through Susan's memories and feelings, and to learn of her family story.... This is a great book for anyone who treats patients, and for the patients and their families as well. It brings the Patient Journey into clear and dramatic focus."—Natalia Greyz, M.D.

"From the first few engrossing pages, I was right there sharing Susan's extraordinary experiences with her. Blood Brother is a must read for oncologists and other providers who believe their only responsibility is to treat the patient's medical symptoms. It will inform and enrich the professional lives of those across the healthcare spectrum, adding depth, meaning to their days, and producing better outcomes for patients. Blood Brother gives hope to those who've lost theirs, patients as well as practitioners. There are happy endings after all!"—Meryl Luallin, CEO, SullivanLuallin Group
TouchPoint Press, 9781952816390, 277pp.
Publication Date: August 15, 2021
About the Author
After Susan graduated from U.C. Berkeley with a degree in Public Health and Immunology, she became a medical writer and garnered awards from the American Medical Writers Association.

Over the years, she also wrote essays, short stories, and poems that have been published on-line and in print. Her poetry has taken prizes in national and regional contests. Her dual background in science and literature makes the voice in Blood Brother: A Memoir lyric as well as credible.

At 55, Susan was diagnosed with the rare and aggressive Mantle Cell Lymphoma. After months of punishing inpatient chemotherapy, she still needed a bone marrow transplant to survive. But her only possible donor had vanished 30 years earlier.

Blood Brother: A Memoir—Susan's first book—captures the specificity, fears, pain, and hope that defined her unforgettable year in treatment. The book is a spiritual and inspirational journey exploring how cancer affected her family and marriage, gave her the ability to forgive, and enabled her to embrace a glorious second chance at life.

Susan lives in the Bay Area with her husband, Daniel.
or
Not Currently Available for Direct Purchase