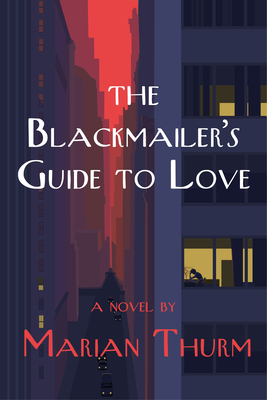 The Blackmailer's Guide to Love
A Novel
Hardcover

* Individual store prices may vary.
Other Editions of This Title:
Digital Audiobook (5/24/2021)
Paperback (5/17/2022)
Compact Disc (5/25/2021)
MP3 CD (5/25/2021)
Description
Chosen by Kirkus Reviews as one of the best books of fiction of 2021
One of the many well-educated Ivy League graduates with literary ambitions who flock to New York City every year, 25-year-old Melissa Fleischer has the great fortune to work as the assistant to Austin Bloch, an editor responsible for refining and publishing the work of some of America's most esteemed writers. But after she begins working at this prestigious magazine in the late 1970's, Mel soon learns that the extravagantly long lunches her boss indulges in actually belie his affairs with a stream of young women. Mel is left in the distressing position of lying about these never-ending betrayals to Austin's wife, Hillarie, who often calls while he is out of the office.
But then, unexpectedly, the New Yorker begins publishing Mel's short stories, offering a spectacular start to what she hopes will be a long and fruitful writing career. Unfortunately, the exhilaration of being published by the magazine she reveres most is soon diminished both by Mel's deeply painful discovery that her own marriage—like Austin's—is far from idyllic, and her continuing complicity in Austin's betrayals. And nothing seems more difficult than the effort it will take to keep her marriage from falling apart.
Praise For The Blackmailer's Guide to Love: A Novel…
"Sparkling. . .[with] a bouncy roman à clef charm." — Publishers Weekly
"A juicy roman à clef sympathetically imagines two young women on opposite sides of an extramarital affair. . . . Beautifully written, both sharp and bighearted, funny and true." — Kirkus, starred review
"Clever, surprising plots developments abound, and exquisitely drawn characters have their perceptions radically changed when they are forced to confront temptations, conflicts and unexpected challenges. Thurm's literary authority is on full display in this deeply engrossing and dramatically juicy novel." — Shelf Awareness
"This is the book I needed and adored. With writing so beautiful; but wait—don't mistake 'beautiful' for 'at the expense of storytelling'—because A Blackmailer's Guide to Love gave me characters so real, so sympathetic, so human, that their good and bad deeds made for compulsive, rewarding, delicious reading. When you can't wait to tell your novel-loving friends about the treat they have in store, that is the test of true book love." — Elinor Lipman, author of Rachel to the Rescue and Good Riddance
"If Dorothy Parker had tried writing Fatal Attraction, she might have come up with something like this wonderfully wry roman à clef about New York's overheated literary world in the 70s. Although Marian Thurm is a far more compassionate observer of human nature, and her appealingly troubled characters, by turns funny, touching and unsettling, are completely her own." — Suzanne Berne, author of The Dogs of Littlefield
"Through her wide-eyed young heroine, Thurm wonderfully conveys the fantasies, disillusions, and vanities of literary New York in the late 1970s. Her biting sketches of the era's key figures bring that lost world alive in granular detail." — Andrea Barrett, author of The Air We Breathe and Archangel
"Thurm spins a story about love and ambition, and the cost of both, focusing on a desperate-to-be-known writer, her philandering boss, her confused, straying husband, and the wily paramour who's out to blackmail him. Smart, savvy, heartbreakingly funny, and oh so wise, with prose like sparklers on every page. Writers are going to absolutely adore this book, but hey, so will everyone else on the planet." — Caroline Leavitt, New York Times bestselling author of Picture of You and With or Without You
Praise for Today Is Not Your Day: "Wry, elegant stories, à la Lorrie Moore and Amy Bloom… Thurm's long-awaited new collection, again chronicling the frustrations and heartbreaks of contemporary domestic relationships with a brilliantly light touch. Thurm hits the funny/sad spot every time, whether the subject is bereavement, divorce, betrayal, or some other form of abandonment." — Kirkus, starred review
"With its concise and insightful prose and pitch-perfect dialogue, this is a collection to savor." — Booklist, starred review
"Marian Thurm is either a movingly compassionate observer of human foibles or a charmingly ruthless one. The best stories in her fourth collection suggest that she is both… [with] her keen gift for portraying the slippery, comical psychology of people who have a tough time believing this is how their lives have gotten kicked out from under them. She makes it all look effortless, and that's no easy task." — New York Times Book Review, Editors' Choice
Praise for What's Come Over You?:  "… her most powerful stories showcase her ability to express deep emotion with a raw, naked intensity… Love and loss form myriad combinations in these quirky, funny, ironic, and heartbreaking tales." — Publishers Weekly
"Thurm finds love everywhere and embraces all relationships: among parents and children, husbands and wives, friends, strangers, and lovers. Her protagonists are bad luck Charlies, likable and empathetic, fumbling through seemingly ordinary lives that Thurm's deft hand raises to the extraordinary…these poignant, multilayered, pitch-perfect slices of life [are] filled with humanity and hope despite frequent betrayals and abandonments." — Kirkus
Praise for These Things Happen: "What distinguishes these stories… is Ms. Thurm's ability to extrapolate whole lives from a few lines of dialogue, a handful of carefully selected observations. In many respects, the world she depicts is an absurdly contemporary one… and yet Ms. Thurm writes with such precision, such attention to psychological detail that she makes this world completely recognizable and true. More importantly, she is always careful to situate her characters within a dense matrix of relationships… we come to see her characters in the round, like beautifully shaped sculptures, rather than as simple portraits in a frame." — New York Times
"Marian Thurm could moonlight as a consultant to the Census Bureau, since her wry, insightful second collection of stories is a compendium of contemporary alternatives to the nuclear family… her young mothers [are] among the fullest and most touching in contemporary fiction." — New York Times Book Review
Praise for Floating: "Marian Thurm writes with an authority that is always impressive… and that compels our innocent belief. Her stories are acoustically perfect… She writes so brilliantly of the battle of the sexes." — New York Times Book Review
"An exceptional collection of stories… vivid and startling… Thurm embraces the ironies and the absurdities of the ordinary world and transforms them into a series of small epiphanies." — Newsday
"Careful, assured, exact, she is a delight to read. She has a fine ear for the way people talk, a clear head and a heart that is almost broken—'almost' because there's humor and wit and a glimmer of hope." — Chicago Tribune
Delphinium, 9781953002006, 336pp.
Publication Date: May 25, 2021
About the Author
Marian Thurm is the author of seven novels and four short story collections, including the most recent, Today Is Not Your Day, a New York Times Editors' Choice. Her novel The Clairvoyant was a New York Times Notable Book. Her short stories have appeared in the New Yorker, the Atlantic, the Michigan Quarterly, Narrative Magazine, the Southampton Review, and many other magazines, and have been included in The Best American Short Stories, and numerous other anthologies. Her books have been translated into Japanese, Swedish, Dutch, German, and Italian. She has taught at Yale and Barnard, in the MFA programs at Columbia University and Brooklyn College, the Writing Institute at Sarah Lawrence, and at the Yale Writers' Workshop.