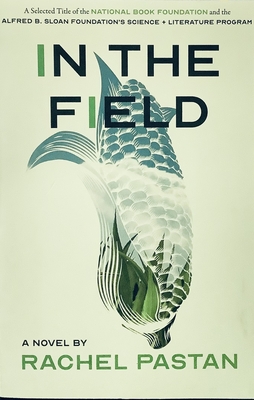 In the Field
A Novel
Hardcover

* Individual store prices may vary.
Other Editions of This Title:
Digital Audiobook (10/18/2021)
Paperback (8/9/2022)
MP3 CD (10/19/2021)
Compact Disc (10/19/2021)
Description
A Selected Title of the National Book Foundation and the Alfred B. Sloan Foundation's Science + Literature Program
In 1920, having persuaded her resistant mother to send her to college, Kate Croft falls in love with science. Painfully rebuffed by a girl she longs for, and in flight from her own confusing sexuality, Kate finds refuge in the calm rationality of biology: its vision of a deeply interconnected world, and the promise that the new field of genetics can explain the way people are.
But science, too, turns out to be marred by human weakness. Despite her hard work and extraordinary gifts, Kate struggles, facing discrimination, competition, and scientific theft. At the same time, a love affair is threatened by Kate's obsession with figuring out the meaning of the puzzling changes she sees in her experiments. The novel explores what it takes to triumph in the ruthless world of mid-20th-century genetics, following Kate as she decides what she is—and is not—willing to sacrifice to succeed.
Praise For In the Field: A Novel…
"An inspiring story of triumph against the odds in a historical based loosely on the life of Nobel-winning scientist Barbara McClintock... spirited. This swift story educates as much as it excites." — Publishers Weekly
"The novel, sensual, stirring—suspenseful . . . a story splendidly imagined, but with all the dimension and complexity that comes from the author's original fascination and respect for the real-life character." — Los Angeles Review of Books
". . .offers a compelling journey through the frustrating, stymied, yet often fascinating world of scientific innovation. . . . Pastan displays the distinctly human side of scientific discovery—its many pitfalls, thrills, and missteps." — Kirkus Reviews
"With In the Field, Rachel Pastan (Alena) offers a compassionate, clear-eyed story of self-determination, love and science. In the Field excels in its multifaceted view of a complex woman: scientist, lover, friend, student of life in both biology and philosophy. Readers will be better for time spent with this patient, tender, loving examination of a life devoted to examination of life. Kate is a character who will stay with readers for a long time." — Shelf Awareness
"Rachel Pastan has written a compelling and compulsively readable tale about a complex woman's path to success in biological science—showing us, through subtle social conflicts and in lucid evocative prose, the difficulties of entering any field as an unconventional, impassioned participant." — Harold Varmus, Lewis Thomas University Professor, Weill Cornell Medicine; Nobel Laureate in Physiology or Medicine
"Rachel Pastan's In the Field is a thoroughly engrossing and timely adjacentto-reality story about many things at once, both intimate and 'public.' I was most compelled by its reminder that the pursuit of scientific discovery challenges its actors with painful moral dilemmas, dramatic choices at every turn. Her Barbara McClintock stand-in travels a road littered with so many boulders that her ultimate 'success' is a cheering but complicated destination." — Rosellen Brown, author of Before and After and Lake on Fire
Praise for Alena: "Alena is so eerie and elegantly suspenseful that I could see myself rereading it, the way I reread Rebecca every few years or so." — Maureen Corrigan, Fresh Air
"Alena is often a brilliant takedown of the self-serious art world, rendering it helplessly camp by sprinkling some of its august and/or provocative names..." — Alex Kuczynski, New York Times Book Review (Editors' Choice)
"In her luminous and sure-footed new novel, Alena, Rachel Pastan has taken on a daunting task: borrowing the basic story of Daphne du Maurier's Rebecca, transporting it to contemporary times and setting it in an isolated art museum on Cape Cod." — Carolyn Parkhurst, The Washington Post
"Rachel Pastan's Alena is at once a meticulously reconstructed death scene and an intelligent conversation about the nature of art; this skillfully crafted novel, which sustains the tension of a ghost story, is both an homage to Daphne du Maurier's Rebecca and an insightful meditation on our obsessive preoccupation with death—simultaneously creepy and entrancing." — John Irving
"A magnetic Cape Cod museum owner invites a native Midwestern woman to take over the role of curator—replacing his one-time muse—and then stands by as she battles the lurking secrets her predecessor left behind." — O, The Oprah Magazine: Winter Reading
"'Last night I dreamed of Nauquasset again.' Fans of Daphne du Maurier's timeless Rebecca will revel in this contemporary homage to her gothic masterpiece." — Margaret Flanagan, Booklist
"Hitchcockian suspense infiltrates the cloistered contemporary art scene in Pastan's riveting third novel... Flush with erotic intrigues and insights into real, working artists, Pastan has written a smart, chilling thriller that leaves readers thoroughly spooked." — Publishers Weekly
Praise for Lady of the Snakes: "Rachel Pastan's novel, Lady of the Snakes, came out in February, but I've been saving it, because I had a hunch that it would be my idea of the perfect summer book—and was I ever right. Lady of the Snakes is a literary mystery crossed with a funny, feminist commentary on marriage—think A.S. Byatt linking arms in sisterhood with chick-lit champs Susan Isaacs and Jennifer Weiner." — Maureen Corrigan, NPR's Fresh Air, Best Summer Reading of 2008
"Both a clever academic novel and a cunning literary detective story, Lady of the Snakes is perhaps most remarkable in its unflinching and compassionate portrait of its heroine, a young woman struggling to manage the competing demands of marriage, motherhood, and career. This is a marvelous, fearless book." — Ann Packer, author of The Dive from Clausen's Pier
"Can a woman have both a fulfilling career and a storybook family life? If you're looking for answers to this wearisome question, check out the manifestos by everyone from Betty Friedan to Caitlin Flanagan. If you want to see the dilemma smartly dramatized in the experience of an appealing, intelligent heroine, read Rachel Pastan's crisp novel, Lady of the Snakes." — Entertainment Weekly
Praise for This Side of Married: "Pastan cunningly reveals the myriad sides of being married—the good, the bad, and the ugly—in an engaging look at the current state of love and courtship." — Carol Haggas, Booklist
"Rachel Pastan has written a novel about families and falling in love that is at once moving, funny, and true. This Side of Married is a wedding bouquet of great wit and affection." — Meg Wolitzer, author of The Interestings
"Jane Austen's honey-and-vinegar spirit is alive and well in Rachel Pastan's delightful novel. She has grasped, with style and authority, the Austen paradox: the women's independence can be laced with the need for love, both given and received; and that wit and a critical eye can—must—serve a moral and, finally, forgiving vision. This Side of Married may mark its author's debut, but she has commanded the dance floor like a pro." — Rosellen Brown
Delphinium, 9781953002037, 352pp.
Publication Date: August 10, 2021
About the Author
Rachel Pastan most recent novel, Alena (Riverhead, 2014) was named an Editors' Choice in The New York Times Book Review. She is also the author of two other novels, Lady of the Snakes (Harcourt, 2008) and This Side of Married (Viking, 2004) which was a Barnes and Noble Discover Great New Writers selection. Her short fiction has been published in The Georgia Review, The Threepenny Review, Mademoiselle, Prairie Schooner, and many other places. In 2014 she edited Seven Writers (The Common Press), a chapbook of writing inspired by exhibitions at the Institute of Contemporary Art in Philadelphia, where she served as Editor-at-Large for several years and developed the popular blog Miranda. Pastan grew up in suburban Maryland, the daughter of a molecular geneticist and a poet, and attended Harvard College and the University of Iowa Writers' Workshop. She is a member of the core faculty of the Bennington Writers Seminar MFA program. Up until recently, she taught writing at Swarthmore College and now is the editor of The Swathmorean, a small town newspaper.