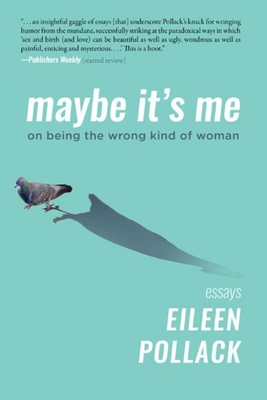 Maybe It's Me
On Being the Wrong Kind of Woman
Hardcover

* Individual store prices may vary.
Other Editions of This Title:
Paperback (1/24/2023)
Description
Eileen is nine and too smart for the third grade, but when the clownish school psychologist tries to gain her trust with an offer of Oreos, she refuses. After all, she doesn't accept gifts from strangers! This is the start of a love-hate relationship with the rules as they were laid out for a girl in 1960s upstate New York—and as they persist in some form today. As she ascends from her rural public high school, where she wasn't allowed to take the advanced courses in science and math because she was female, through a physics degree at Yale, to a post-graduate summer that leaves her "peed on, shot at, and kidnapped," to a marriage where both careers theoretically are respected but, as the wife, she is expected to do all the housework and child-rearing, pay the taxes, and make sure the Roto-Rooter guy arrives on time, Pollack shares with poignant humor and candid language the trials of being smart and female in a world that is just learning to imagine equality between the sexes. Maybe It's Me is a question all smart women have asked themselves. Pollack's autobiographical essays take us on a roller-coaster ride from gratifyingly humorous street-level stories of innocent curiosity to the calculated meanness of tweeny girls to the defensive strategies of threatened men to the 20,000-foot overview of how we all got here. In the end, Pollack's message is one of human connection and tenacity because even in her sixth decade, still searching for love, acceptance, and equality, she is still very much in the game.
Praise For Maybe It's Me: On Being the Wrong Kind of Woman…
". . . An insightful gaggle of essays [that] underscore Pollack's knack for wringing humor from the mundane, successfully striking at the paradoxical ways in which 'sex and birth (and love) can be beautiful as well as ugly, wondrous as well as painful, enticing and mysterious . . . .' This is a hoot." — Publishers Weekly, starred review
"A master of the long-form personal essay. . . The author's candor, curiosity, humor, and gift for phrasemaking are engaging regardless of the topic. . . Yet more compelling work from a unique mind."  — Kirkus Reviews, starred review
"Eileen Pollack's essay collection Maybe It's Me: On Being the Wrong Kind of Woman asks the kind of probing questions that all autobiographical writing ought to pose, but only the most fearless dares to answer. 'Why am I the way I am? What experiences shaped me into the person I've become? What can I see now, looking back on my past, that I couldn't see then?' With a clear eye and a sharp wit, Pollack traces the path by which an outwardly ordinary girlhood gave rise to an extraordinary woman." — Kristen Roupenian, author of You Know You Want This: "Cat Person" and Other Stories
Praise for Eileen Pollack: "Eileen Pollack is one of the smartest, funniest, and most companionable novelists out there." — Rivka Galchen, author of Atmospheric Disturbances
Praise for The Professor of Immortality: "Pollack (Breaking and Entering) adds a hearty dose of maternal fretting to her solid fictionalization of the Unabomber case." — Publishers Weekly
"An earnest . . . examination of the side effects of technology on humanity." — Kirkus Reviews
"The Professor of Immortality is intimate and sweeping, funny and terrifying, and most of all dead-on in its observations of what it means to want to know everything about people we love while still being frightened of what we might find out: it's a detective story, and a story of motherlove. Eileen Pollack is a splendid writer." — Elizabeth McCracken, author of Bowlaway
"In this exceptional novel, Eileen Pollack writes with great immediacy about the impact of grief on a parent's perception of the world. Tender, wry, full of unexpected revelations, The Professor of Immortality gripped me from the first scene, and the urgent questions it poses have stayed with me." — Idra Novey, author of Those Who Knew
Delphinium, 9781953002075, 288pp.
Publication Date: January 25, 2022
About the Author
Eileen Pollack grew up in Liberty, N.Y., the heart of the Jewish Catskills. After graduating from Yale with a BS in physics, she earned an MFA in creative writing from the Iowa Writers' Workshop. She is the author of the novels The Professor of Immortality, The Bible of Dirty Jokes, A Perfect Life, Breaking and Entering (which won the Grub Street National Book Prize and was named a New York Times Editor's Choice selection), and Paradise, New York. She also is the author of two collections of short fiction, The Rabbi in the Attic and In the Mouth (which won the Edward Lewis Wallant Award). Pollack's work of creative nonfiction Woman Walking Ahead: In Search of Catherine Weldon and Sitting Bull was made into a movie starring Jessica Chastain. Her investigative memoir The Only Woman in the Room: Why Science Is Still a Boys' Club was published by Beacon Press;a long excerpt appeared in the Times Sunday Magazine and went viral. Pollack has received fellowships from the NEA, the Michener Foundation, the Rona Jaffe Foundation, and the Massachusetts Arts Council. Her novella "The Bris" was chosen by Stephen King to appear in the Best American Short Stories 2007. Her essay "Pigeons" was selected by Cheryl Strayed for the 2013 edition of Best American Essays;"Righteous Gentile" appears in the 2018 edition of Best American Travel Writing. A long-time faculty member and former director of the Helen Zell MFA Program in Creative Writing at the University of Michigan, she now lives and writes in Boston.