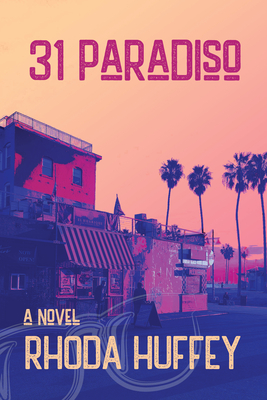 31 Paradiso
Hardcover

* Individual store prices may vary.
Description
When Francine Ephesians Didwell loses the love of her life, she is forced to reconnect with her estranged family. She's led two lives up until now, one with her evangelical charismatic family, and another of emancipated rebellion with her lover. Bereaved, Francine relocates to 1990s Venice Beach to start life over. She struggles to make a living doing massages and managing her new real estate of bread-and-butter units in hell. The novel moves between Francine's new home and her family estate just fifty miles inland where, hoping to reconnect, Francine discovers she must confront the truth about dark family secrets or lose herself in the suicidal world of drugs. To her great good luck, throughout her journey, she is assisted and supported by her other family: the yodeler, the sex worker, the local burglar who has taken up residence outside her window, and all the imperfect characters from the mean streets of Venice Beach. Hilarious and painful, Francine's life force and her thirst for freedom illuminate every page. 
Praise For 31 Paradiso…
". . . moving . . . resonant. . . .Huffey's novel ventures into surprisingly imposing emotional territory." — Kirkus Reviews
"31 Paradiso is so filled with energy, the pages fairly crackle. A story of revelations, told with enormous vim and vigor, pain and wisdom, wit and wildness, (and also, shuffles and heel rolls.) The first great American tap-dancing novel!" — Karen Joy Fowler, author of Booth
"I think Rhoda Huffey has invented a whole new kind of narrative prose. Each sentence is an unforeseeable surprise. She's got a new way of tracking how it feels to be a living person, minute-to-minute—in particular how it feels to be this person Francine Didwell, fresh-arrived in Venice Beach, California. To live in Venice is, itself, wonderfully distracting. But it's super-distracting just being Francine Didwell, a tap dancer and a philosopher and a perpetual pilgrim, who, in her gypsy life in a beach town, will survive on her own inner stores of compassion and irony." — Louis B. Jones
"Rhoda Huffey writes like an angel who saw what happened in the garden and still remained an optimist. On each page of Francine Didwell's story there is an original joy, many times rescued from the powers of her religious family and many from Francine's amazed view of the world. At times her empathy feels like X-ray glasses and all the ordinary things in her teeming cosmos of Venice Beach glow. She can hear her dog's thoughts and her cat is her AA sponsor. This is a special book. With all its signs and wonders, there is tap dancing too."  — Ron Carlson, author of Five Skies
"You will be puzzled. You will say Huh? You will giggle. You will crack up. You will start to know who Francine Didwell is. You will hold her in your hands till the end. You will know the very original company you have kept in reading 31 Paradiso." — Michelle Latiolais, author of Widow, She
"Huffey's third person is pure and flexible in a way that gives us access to Francine with vivid, large directness, but also to the animals and people around her. Everyone, and even objects have their own soul and subjectivity. Every single one of Huffey's characters is terrific. The family dinners are as fun as they are treacherous. There is something very 'now' about this novel, despite it being set in the early '90s. Maybe the world is finally ready for this book." — Varley O'Connor, author of The Welsh Fasting Girl
"Rhoda Huffey writes with an unforgettable voice—astringent, funny, ironic and whimsical. This voice is perfect for 31 Paradiso. Her subject is the crazy quilt of humans in Venice, California, and the human condition as seen through the lens of overpriced real estate and middle-aged passion. Jesus, of course, is never far from the action. Reading 31 Paradiso is like hearing a great story from an old friend." — Mark Childress, author of Crazy in Alabama and Georgia Bottoms
Praise for Rhoda Huffey & The Hallelujah Side: "In her vivid first novel, Rhoda Huffey's sinners are bathed in the Technicolor hues of Tangerine Kiss lipstick and green-striped bikinis, while their less worldly counterparts make do with discards from the missionary donation box." — New York Times Book Review 
"A funny, heart-warming novel. . .remarkable. . .poignantly humorous. . . . Huffey's light touch with her material, and her sensitive rendering of a religious youngster's matter-of-fact belief that the world may end any minute, move her story from the paradoxical to the plausible." — Publishers Weekly
"Characters burst into reality from The Hallelujah Side holding tambourines and Das Kapital and tubes of Tangerine Kiss lipstick in their hands. Rhoda Huffey depicts Roxanne Fish's struggle to grow up in her radically evangelical family with humor and see-through-you insight. Every reader will be rooting for Roxy to open her throat and sing her own unique soul in her amazing 'porkchop' voice." — Sena Jeter Naslund, author of Ahab's Wife
"This is a wonderful book. It's wonderful! I loved the people and sympathized with their idealism, even their metaphysics. And the author's mastery of structural conjunctions in the story is a revelation." — Louis B. Jones, author of Ordinary Money
"Brimming with humor and wisdom, The Hallelujah Side is a wondrous tale told through the eyes of a precocious and charmingly earnest nine-year-old girl. With observations as sharp and honest as tempered steel, Roxanne Fish will make you laugh even as your heart breaks. Rhoda Huffey has written an infinitely fascinating and memorable novel." — Connie May Fowler, author of Remembering Blue
Delphinium, 9781953002099, 304pp.
Publication Date: May 10, 2022
About the Author
Rhoda Huffey is a tap dancer and writer. She grew-up in Ames, Iowa until she was 10, then moved to Monrovia, CA (in Los Angeles County). She lives in Venice Beach, CA with her husband and a houseful of rescue animals. She received an MFA from the University of California at Irvine. She has published a novel, The Hallelujah Side, and short stories in numerous magazines including Ploughshares, Green Mountains Review, and Santa Monica Review. The daughter of two Pentecostal preachers, Huffey writes about a world she knows with sympathy and feeling.