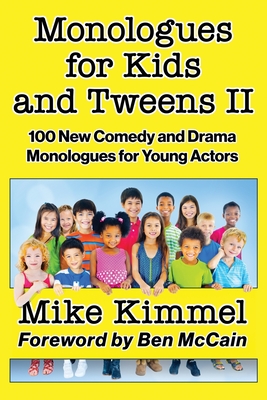 Monologues for Kids and Tweens II
Paperback

* Individual store prices may vary.
Description
Tired of seeing mean-spirited, snarky performance material for kids? Looking for material with a positive spin? Full voting member of the National Television Academy and Tonight Show sketch comedy performer Mike Kimmel has been writing, acting, and producing for decades. Now he shares a curated collection of 100 of the best comedy and drama monologues.
Monologues for Kids and Tweens II is a collection of 100 new comedy and drama pieces for our youngest performers. It is the 7th installment in The Young Actor Series. The scripts are easily relatable to children's real-life roles as daughters, sons, siblings, students, and young athletes. Each piece is clean, gender-neutral, and may be performed by both male and female actors. The monologues run one to two minutes in length, with no props or costumes required. All scripts are clean, family-friendly, and include positive messages, life lessons, and ethical questions for young people - and all people- written between the lines. This material (and the subtext) can help parents and teachers encourage positive attitudes and behaviors in our young performers, their classmates and audiences. Appropriate for film, television, theater, speech and forensics competitions, and drama school auditions.
Ben Rose Creative Arts, 9781953057037, 140pp.
Publication Date: April 21, 2021