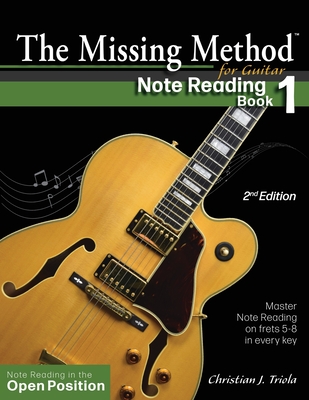 The Missing Method for Guitar Book 1
Note Reading in the Open Position
Paperback

* Individual store prices may vary.
Description
New expanded second edition
Unlock your musicianship with the power of note reading.
The Missing Method for Guitar Note Reading Series, Book 1 focuses solely on note-reading so guitarists at any level, from beginner to advanced, can learn how to read standard notation. It introduces you to everything you need to know in order to understand reading guitar music, even if you've never read music before. This easy, step-by-step approach starts with the basics and moves forward until you can read every note in the first position of the fretboard.
Guided Lessons on Your Schedule
Over the past 20 years, Christian J. Triola has taught hundreds of students to play guitar. With a Master's Degree in Education and a Bachelor's Degree in Music (Jazz Studies), he has used his knowledge and experience to create a focused note reading series that gives you plenty to practice without making you feel overwhelmed or intimidated. And in the end, you'll be a better musician for it.
Put an end to your note reading fears
Learn to read and play standard guitar notation in open position (Frets 0-4), in every key
Understand the difference between beat and rhythm, and practice with a variety of rhythms
Discover why time is the secret ingredient of being a solid player
Practice and play scales and songs in every key
Explore the basics of guitar music theory
Hone your sight reading skills
Develop mastery with hundreds of practice songs and exercises
Hear each exercise with free streaming audio files
When you've finished, you'll be a more confident player and a more competent musician. Then, if you'd like to take your skill set further, continue on through the series, learning to read every note in each position of the neck. Each book can be used in conjunction with any other method book, by itself, with a teacher, or on your own.
Why Wait?
Join the legions of guitar players who've already started reading standard notation with The Missing Method
*Need a left-handed copy? We have that too Search: The Missing Method for Guitar, Book 1 Left-Handed Edition: Note Reading in the Open Position.
Other Missing Method Books in this series:
The Missing Method for Guitar Note Reading Series Book 2: Learn to read frets 5-9.
The Missing Method for Guitar Note Reading Series Book 3: Learn to read frets 9-12.
The Missing Method for Guitar Note Reading Series Book 4: Learn cross over positions.
The Missing Method for Guitar Note Reading Series Book 5: Learn frets 12-22.
More Missing Method Books:
The Guitar Chord Master Series: Learn open chords (level 1), how to use a capo (level 2), and power chords (level 3)
Technique Master Series: Learn basic fret-hand technique with Technique Master and learn the pentatonic scale with Pentatonic Master
Missing Method, 9781953101044, 152pp.
Publication Date: July 18, 2020