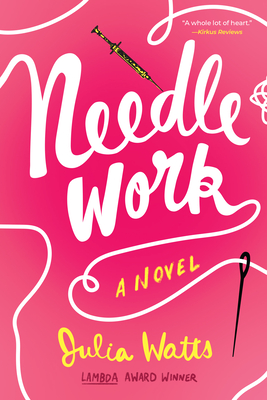 Needlework
Paperback

* Individual store prices may vary.
Description
In rural Kentucky, a sixteen-year-old boy with a love of quilting, cooking and Dolly Parton helps his grandma care for his opioid-addicted mother, until the discovery of a family secret upends everything he has ever believed. While other sixteen-year-old boys in Morgan, Kentucky, love hunting and football, Kody prefers to spend his time quilting with his grandmother ("Nanny"), watching Golden Girls reruns, and listening to old Dolly Parton albums. Nanny is Kody's main caregiver, but it takes both Nanny and Kody to take care of Kody's mother, whose drug problem is spinning out of control. Between looking after Mommy and trying to survive in a place that doesn't look kindly on feminine boys, Kody already has a hard time making sense of his life. But then he uncovers a family secret that will change everything in his life.
Three Rooms Press, 9781953103079, 288pp.
Publication Date: October 5, 2021
About the Author
Julia Watts is the author of thirteen novels and several short story collections in the genres of young adult fiction and lesbian fiction/erotica. Her books are set in her native Appalachia and often depict the lives of LGBTQ people in the Bible Belt. Her novel Finding H.F. (Alyson Press, 2001) won the 2001 Lambda Literary Award in the children/young adult category. Her novel Women's Studies was a finalist for a Golden Crown Literary Society award. Her historical YA novel Secret City (Bella Books, 2013) was a finalist for the Lambda Literary Award, was a selection for the 2015 ALA Rainbow List, and was a winner of a Golden Crown Literary Award. In addition to her fiction work, Watts co-edited an anthology of essays, memoirs and stories on the sensitive topic of menstruation titled Women. Period.. Her most recent novel, Quiver, garnered a rare Perfect 10 rating from VOYA Magazine. She holds a masters in fine arts from Spalding University. She lives in Knoxville and is working on a PhD in Children's and Young Adult Literature at The University of Tennessee.