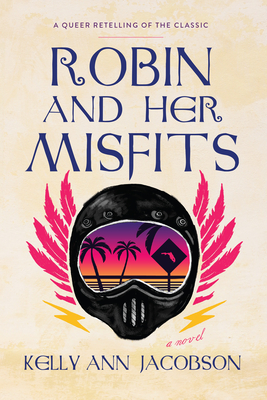 Robin and Her Misfits
Paperback

* Individual store prices may vary.
Description
In this complete reimagining of the Robin Hood legend, the "merry men" are a roving gang of fiercely unique queer female bikers, street racers, and bandits, whose leader, Robin, drives them from a life of greed to a pledge to "steal from the rich" and give back to queer girls in need of help.
Robin and her four Misfits--Little John, White Rabbit, Daisy Chain, and Skillet--have run away from their families in order to live off the grid on their own terms. For a while, they're hidden, safe, and happy as they commit petty crimes that provide enough to get by. All that matters is keeping their small clan alive. Then, one mission proposed by an unfriendly associate from their past reminds them of their former lives and motivates the group to a new purpose. The five Misfits develop into a league of strong individuals united by a fresh goal: do whatever it takes to help queer girls rise above oppressive laws and attitudes.
Kelly Ann Jacobson, the author of the award-winning LGBTQ+ young adult novel Tink and Wendy, is back with another diverse twist on a popular legend.
Three Rooms Press, 9781953103314, 278pp.
Publication Date: April 25, 2023
About the Author
Dr. Kelly Ann Jacobson is the author or editor of many published books, including, most recently, her young adult novel Tink and Wendy (Three Rooms Press), winner of the 2021 Foreword Indies Gold Medal for Young Adult Fiction and her contest-winning chapbook An Inventory of Abandoned Things (Split/Lip Press). Kelly's short fiction has been published in such places as Best Small Fictions, Daily Science Fiction, Northern Virginia Review, Iron Horse Literary Review, New Plains Review, and Gargoyle. Kelly received her PhD in fiction from Florida State University. She currently lives in Lynchburg, Virginia, where she is an Assistant Professor of English at University of Lynchburg.