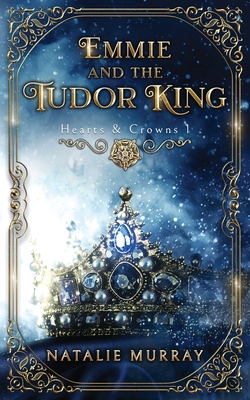 Emmie and the Tudor King
Paperback

* Individual store prices may vary.
Description
"This book will grab you and won't let go until you've reached the final page. And then it will leave you wanting more. You've been warned." - YA Books Central
One moment, Emmie is writing her high school history paper; the next, she is lost in 16th century England, where she meets a dreamy but dangerous Tudor king who is destined for a dreadful fate.
Able to travel back to her own time but intensely drawn to King Nick and the mysterious death of his sister, Emmie finds herself solving the murder of a young princess and unravelling court secrets while trying to keep her head on her shoulders, literally.
With everything to lose, Emmie will come to face her biggest battle of all: How to cheat the path of history and keep her irresistible king, or lose him-and her heart-forever.
Praise for Emmie and the Tudor King:
"As satisfying as it is suspenseful...rich with raw emotion." - Foreword Reviews
"A swashbuckling, romantic adventure story about time travel and a love that spans four centuries, Emmie and the Tudor King is an absolute pleasure." - C.J. Flood, award-winning author of Infinite Sky and Nightwanderers
"A mix of history, time-travel, and romance, this story will take readers on an exciting adventure, sure to please lovers of both history and fantasy alike." - InD'tale Magazine.
"A fabulous, immersive love story... I loved this book and highly, highly recommend it when you have an entire day to devote to reading because you won't want to put it down." - Jenny Hickman, author of The PAN Trilogy
"I devoured this book in one sitting... I simply couldn't put it down Get ready to stay up all night." - Larissa Lopes, author of The Alec Brock Series
"Oh my god. This book was utter PERFECTION." - Maddy, verified reader
"I am absolutely heartbroken that it ended so soon." - Intellectual Magpie, verified reader
"This is definitely one of my favorite reads this summer " - Christina Marie, verified reader
"I genuinely do not think anything could make me love this more than I do " - Ariel, verified reader
"I can't wait for the next book " - Jenny, verified reader
"I freaking loved this book with all my heart. This book was perfection in every sense." - Adriana, verified reader
"I was hooked to the story and now I have a book hangover I need the sequel so badly " - Joana, verified reader
"Woah, woah, woah This book was absolutely amazing " - Chelseaslibrary, verified reader
"Perfect for history buffs, and anyone who wants a love story with heart and wit. It's the kind of book you think about long after you turn the last page." - Lynn, verified reader
"I have read this story two or three times and it never fails to grip me until the very last pages. I loved every second of it and am so glad that we got a book two and hopefully a book three." - CR, verified reader
"I loved this book so much that I had to download the sequel as soon as I turned the last page." - Megan, verified reader
Midnight Tide Publishing, 9781953238252, 330pp.
Publication Date: March 31, 2021