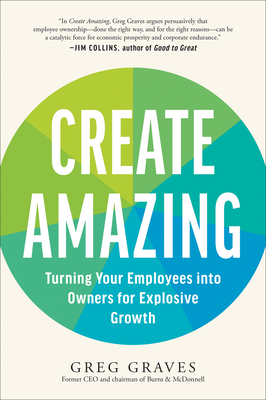 Create Amazing
Turning Your Employees into Owners for Explosive Growth
Hardcover

* Individual store prices may vary.
Other Editions of This Title:
Digital Audiobook (5/10/2021)
MP3 CD (5/11/2021)
Compact Disc (5/11/2021)
Description
Are you considering starting an Employee Stock Ownership Plan (ESOP) or converting your company to an ESOP? Or maybe making the big leap to a 100% employee-owned company?

If you want your company to perform at its absolute peak and you want the people who make that happen (you included) to receive the ultimate financial return—that of an owner—Create Amazing is your practical field guide to creating an amazing company and leaving a great legacy.

There are more than 10,000,000 employee owners in America today. The results of employees owning a piece of the pie has been proven throughout American history, even before ESOPs became IRS law in 1974. Employees with even a small capital interest in their firms' successes are more likely to stay, have greater loyalty and pride, are willing to work hard, and make more suggestions for improvement. 

Economic injustice caused by wealth disparity is quickly becoming the hottest debated topic in America especially in combination with the most regressive recession in America's history and the nation's hopeful new commitment to equalizing opportunities across all people. Employee ownership is not the only answer for economic justice but it can be a critical puzzle piece for tens of millions of Americans where the current inherent disadvantage of circumstance stands in their way.

Create Amazing demonstrates how ownership can provide the ultimate competitive advantage to a growing company—and the nation. The vast majority of what's been published about employee ownership comes from academe—compelling research from Rutgers, the feds, and several national ESOP associations. Create Amazing puts ESOPs feet-on-the-ground, written by Greg Graves, a CEO who has walked the talk. Graves operated one of the most successful ESOPs in American history. Graves shares:

   • The history of employee ownership in America and the principles of its purpose
   • Why employee ownership is a viable solution fiscally and futuristically
   • What an ESOP is, what it does, and what's happening in Washington, DC, to promote this model
   • How ESOPs work, and how they're structured legally, fiduciarily, and financially
   • A deep dive into the impact of ESOPs on America and on employee owners personally 

If you're a business owner considering an ESOP start-up or transition to employee ownership, if you are a current employee owner who believes your firm can do more, or if you simply believe that our nation needs a shot of steroids to be both more productive and more just, this is the book that speaks from a real-world, executive-to-executive perspective about the process, the problems (and how to avoid them), and the deliverables. Create Amazing explores how employee ownership—done the right way—sparks an ownership mindset among employees and can be a catalytic force for economic prosperity and corporate endurance.
Praise For Create Amazing: Turning Your Employees into Owners for Explosive Growth…
"As Create Amazing makes clear, employee ownership has a rich history in our country—and a strong future. Greg Graves has given us a how-to manual for combining good politics and economic policy to reduce economic disparity and improve the financial well-being of our nation."

—Jerry Moran, US Senator, Kansas

"How should we solve economic inequality? Greg Graves, former CEO of one of the most important employee-owned corporations in the United States suggests we encourage the employees to buy the most successful firms in the country using credit and tax incentives using the ESOP (Employee Stock Ownership Plan)."

—Joseph Blasi, director, Institute for the Study of Employee Ownership and Profit Sharing, Rutgers University

"Greg Graves is not a theoretician sitting in an ivory tower, but a leader who built an incredibly successful company based on a model of shared capitalism: an ESOP. Create Amazing tells you how to bring this competitive advantage to your own company."

—Stephen Smith, CEO, Amsted Industries

"Greg Graves's new book is a must-read for any business leader thinking about how to transition the company into an ownership structure that will build productivity, loyalty, profits, and employee financial security . . . I cannot recommend this book highly enough."

—Stephanie Silverman, CEO, S-Corporations of America

"Through this book, Greg Graves offers a comprehensive blueprint for how to improve businesses through employee ownership. His practical ideas and civic-minded approach will redesign the workplace and reinvigorate the American economy."

—Stuart R. Bell, president, The University of Alabama

"Greg Graves's dynamic leadership of a highly successful large multinational employee-owned company provides him with a unique perspective of wealth building in America." 

—Doug Girod, chancellor, University of Kansas
Matt Holt, 9781953295002, 224pp.
Publication Date: April 27, 2021
About the Author
Greg Graves is newly retired as Chair/CEO of Burns McDonnell Engineering, and he has been chairman of the board for two iconic Kansas City metro institutions that are trailblazers in fields he is extremely passionate about—healthcare and the arts. Greg was named chair of the University of Kansas Hospital Authority Board after serving as a board member since 2009. The Kansas City Repertory Theatre also appointed Greg as chairman of its board from 2017-19. On the board of publicly owned UMB Financial Corporation, a $25B bank headquartered in Kansas City, Greg serves as the board's Lead Independent Director and chairs the nominating committee.
or
Not Currently Available for Direct Purchase