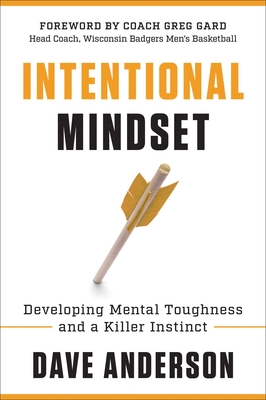 Intentional Mindset
Developing Mental Toughness and a Killer Instinct
Hardcover

* Individual store prices may vary.
Other Editions of This Title:
MP3 CD (5/11/2021)
Compact Disc (5/11/2021)
Description
Some people seem to be born with a mental makeup that predestines them for success. But anyone can master their mindset. Dave Anderson shows you how. 

In Intentional Mindset, LearnToLead founder Dave Anderson shows you how to purposefully develop both killer instinct and mental toughness by cultivating and strengthening ten specific traits. 

The author of 15 books and host of the popular podcast The Game Changer Life, Dave's guidance has impacted readers and listeners in more than 145 countries. Now, he shares a unique blueprint for developing the mindset you need to succeed, presenting foundational strategies for intentionally developing and strengthening what he calls the ACCREDITED traits: attitude, competitiveness, character, rigor, effort, discipline, intelligence, tenacity, energy, and drive.

Throughout the book, readers will follow the progress of three "case studies." The frustrations, progress, and victories of "Fred," "Frank," and "Frances" will replace the sterile or academic approach so common in personal development books with a more readable, personal, and actionable experience. What's more, Anderson provides an optional 70-day follow-up course to integrate the book's lessons into one's daily routine and accelerate results. All materials for this course, including a downloadable workbook and 70 supporting videos—one for each day—are provided at no cost at LearnToLead.com. 

Intentional Mindset is a true game changer—a book that gives you the tools to shape your future by shaping your mind.
Praise For Intentional Mindset: Developing Mental Toughness and a Killer Instinct…
"Having played in the NBA for many years, I know a killer instinct when I see one. You can almost sense it. Dave not only has a killer instinct himself but he's great at teaching you the principles to find yours, too. I highly recommend this book to anyone looking to better themselves and develop a true killer instinct and mental toughness." 

—Meyers Leonard, NBA's Miami Heat

"At first glance, it's easy to find Dave's characters, Frances, Frank or Fred, in those we work with. But in typical Dave fashion, as he carries us along, we begin to find morsels of ourselves in each of them. That's when we begin to learn."

—Troy Tomlinson, CEO of Universal Music Publishing Group, Nashville

"I've seen firsthand the results that come from being absolutely captivated by the mentality of mental toughness and destroying the excuses of adversity that Dave Anderson teaches and lives. Dave puts you front and center inside these pages to gain the tools and attitude you need to lead a life and profession that embraces challenges and knocks out fear and doubts." 

—Tom Crean, head coach of the Georgia Bulldogs 

"The knowledge shared by Dave Anderson in this book shows you how to put this plan together to make it a part of your activities each day. It offers a healthy way to self-evaluate one's actions in success and failure to work toward continuous improvement in all the things that we deem important in our lives. It also shows how to develop better mental toughness and killer instinct by focusing one's attitude as to how to engage with events that work against them."

—Brad Bartlett, president of Dole Packaged Foods

"Dave's grasp on developing lifelong leadership qualities is outstanding. He brings a real-world honest approach to combating instant gratification leadership in all facets of life. This book will not only equip the leaders of tomorrow but will also help those in leadership positions today strengthen and solidify their mental toughness and killer instinct." 

—Jason Loscalzo, head strength and conditioning coach for the Chicago Bears 

"The world is changing. Don't get left behind. Develop the killer instinct that is inside you and this book has a road map showing you exactly how to do so. Thank you, Dave, this is another must-read for those looking to WIN."

—Shawn Meaike, president of Family First Life Insurance Company
Matt Holt, 9781953295026, 256pp.
Publication Date: April 13, 2021
About the Author
Dave Anderson, "Mr. Accountability," is a leading international speaker and author on personal and corporate performance improvement. After an extensive career in the automotive retail business, Dave began LearnToLead with the goal to help individuals and organizations reach their personal and corporate potential. The author of fourteen books, and host of the wildly popular podcast, The Game Changer Life, Dave's no-nonsense messages impact listeners and readers in nearly seventy countries. Dave speaks 100+ times per year to a wide array of businesses, non-profits, and works as a mental toughness consultant for individual athletes and teams. His immediately applicable messages, energized and dynamic presentation style, and unmatched content positively focuses, equips, and inspires teams to do better—and the principles he shares resonate with audiences from a wide array of industries: automotive, banking, insurance, manufacturing, retail, non-profits, law enforcement, universities, service industries, athletic teams, and more.
or
Not Currently Available for Direct Purchase