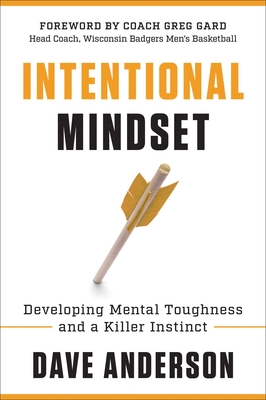 Intentional Mindset
Developing Mental Toughness and a Killer Instinct
Hardcover

* Individual store prices may vary.
Description
Some people seem to be born with a mental makeup that predestines them for success. But anyone can master their mindset. Dave Anderson shows you how.
Killer instinct. Mental toughness. Whether you're looking for financial advancement, success in the workplace, better relationships, or personal transformation, these two qualities are the keys to achieving your goals. Together, they make up the mindset that will get you where you want to go.
In Intentional Mindset, LearntoLead founder Dave Anderson shows you how to purposefully develop both killer instinct and mental toughness by cultivating and strengthening ten specific traits. Built as a ten-week course, this is a no-nonsense, tough love path to professional development that will change your life.
The author of 14 books and host of the popular podcast The Game Changer Life, Dave's guidance has impacted readers and listeners in nearly 80 countries. Now, he shares a unique blueprint for developing the mindset you need to succeed, presenting foundational strategies for intentionally developing and strengthening what he calls the ACCREDITED traits: attitude, competitiveness, character, rigor, effort, discipline, intelligence, tenacity, energy, and drive.
Throughout the book, readers will follow the progress of three "case studies." The frustrations, progress, and victories of "Fred," "Frank," and "Frances" will replace the sterile or academic approach so common in personal development books with a more readable, personal, and actionable experience. What's more, Anderson provides readers with an optional seventy-day follow-up course featuring helpful tips to integrate the book's lessons into one's daily routine and accelerate results. All materials for this course, including a downloadable workbook and seventy supporting videos--one for each day--are provided at no cost on the author's LearntoLead.com website.
Intentional Mindset is a true game changer, a book that gives you the tools to shape your future by shaping your mind.
Matt Holt Books, 9781953295026, 240pp.
Publication Date: April 13, 2021
About the Author
Dave Anderson, "Mr. Accountability," is a leading international speaker and author on personal and corporate performance improvement. After an extensive career in the automotive retail business, Dave began LearnToLead with the goal to help individuals and organizations reach their personal and corporate potential. The author of fourteen books, and host of the wildly popular podcast, The Game Changer Life, Dave's no-nonsense messages impact listeners and readers in nearly seventy countries. Dave speaks 100+ times per year to a wide array of businesses, non-profits, and works as a mental toughness consultant for individual athletes and teams. His immediately applicable messages, energized and dynamic presentation style, and unmatched content positively focuses, equips, and inspires teams to do better--and the principles he shares resonate with audiences from a wide array of industries: automotive, banking, insurance, manufacturing, retail, non-profits, law enforcement, universities, service industries, athletic teams, and more.