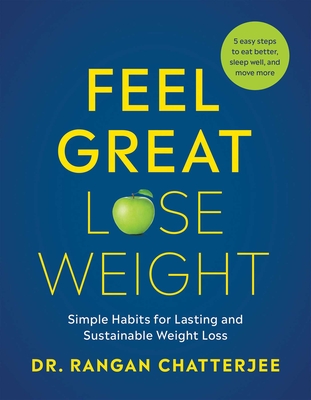 Feel Great, Lose Weight
Simple Habits for Lasting and Sustainable Weight Loss
Paperback

* Individual store prices may vary.
Description
Weight loss isn't a race. It isn't one size fits all. Everyone wants fast results, but when it comes to losing weight with crash diets, what goes down nearly always comes back up. And weight-loss programs designed to fit "everyone" are often too broad and restrictive to fit into the complicated lives of real people.

Drawing on twenty years of experience, Dr. Rangan Chatterjee-BBC personality and author of the bestselling Feel Better in 5-has created a conscious, compassionate, sustainable approach to weight loss that goes far beyond fad diets to find the individual strategies that will work for you.
Packed with quick and easy interventions, this book will help you:
Understand the effects of what, why, when, where and how we eat
Discover the root cause of your weight gain
Nourish your body to lose weight without crash diets or grueling workouts
Build a toolbox of techniques to help you weigh less while living more
Lose Weight, Feel Great is a new way to look at weight loss-a 360-degree view that goes beyond calories to see the bigger picture, including not just physical but also mental and environmental factors. With Dr. Chatterjee's guidance and encouragement, you'll turn simple and sustainable lifestyle changes into a more energized, confident, and healthier you.
Benbella Books, 9781953295057, 200pp.
Publication Date: March 30, 2021
About the Author
Dr. Rangan Chatterjee is regarded as one of the most influential doctors in the UK. A practicing GP for the last two decades and resident BBC Breakfast doctor, Dr. Chatterjee wants to inspire people to transform their health through making small, sustainable changes to their lifestyles. Leading the charge on how healthcare and medicine is understood in the UK, Dr. Chatterjee most recently cocreated a lifestyle medicine course with the Royal College of GPs, which has now been delivered to over 400 GPs and health care professionals. Host of the #1 iTunes podcast, Feel Better, Live More, and presenter of BBC 1's Doctor in the House, Dr. Chatterjee is the author of two Sunday Times bestselling books and his TED talk, "How to Make Diseases Disappear," has now been viewed over 2.6 million times. Dr. Chatterjee lives in Wilmslow, Manchester, with his wife and two children.