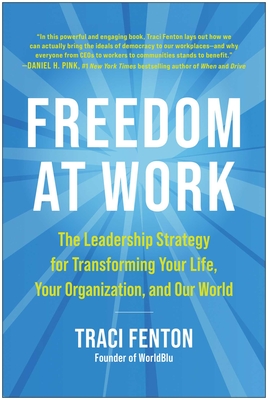 Freedom at Work
The Leadership Strategy for Transforming Your Life, Your Organization, and Our World
Hardcover

* Individual store prices may vary.
Other Editions of This Title:
Digital Audiobook (10/3/2022)
Description
Discover the leadership strategy for unlocking your team's greatness.
  
Whether it shows up as stress, top-down leadership styles, drama, or uncertainty, fear kills good decision-making, dampens morale, lowers employee engagement, and hurts bottom-line growth.
 
The good news is that there's an antidote: Freedom at Work.

In this groundbreaking book, Traci Fenton brings together decades of original research, based on her team's work with hundreds of top companies around the world, such as The WD-40 Company, Mindvalley, DaVita, Menlo Innovations, Zappos, HCL Technologies, and more, revealing the proven pathway to leadership success. 
 
This powerful strategy will benefit any leader at any level in any type of organization, from entrepreneurs to mid-level managers to the C-suite.
 
Freedom at Work is based on three key pillars: 

   • Freedom-Centered Mindset: Break through limitations, make better decisions, and act with clarity and confidence
   • Freedom-Centered Leadership: Lead yourself and others from a place of freedom rather than fear
   • Freedom-Centered Design: Develop a world-class culture based on the 10 Principles of Organizational Democracy 

Freedom at Work is a revolutionary guide that will help make any organization high-performing and highly profitable, while creating a culture people love. This book will help passionate leaders weave freedom and democracy into our global tapestry through the way they run their teams and organizations—ultimately transforming our world for the better.
BenBella Books, 9781953295491, 304pp.
Publication Date: March 1, 2022
About the Author
Traci Fenton is the founder and CEO of WorldBlu, a global leadership company teaching top leaders and their organizations how to lead with the proven Freedom at Work™ leadership model. Traci and her team have transformed organizations such as The WD-40 Company, Mindvalley, DaVita, DreamHost, GE Aviation, and Zappos using freedom and organizational democracy rather than fear and control.
 
Traci is a globally recognized keynote speaker, author, and transformational coach to CEOs and leaders worldwide. As a "Thinkers50 Radar" award winner, Traci was called "a game changer in transforming the culture of organizations." She was also named a "World-Changing Woman in Conscious Business" by SOCAP Global, recognized in Inc. magazine as one of the "Top 50 Leadership Innovators," and honored as a Marshall Goldsmith "Top 100 Coach."
 
Traci frequently speaks worldwide to top leaders and their teams. She has spoken at numerous organizations such as Harvard, Yale, Yahoo!, and the US Naval Academy, and at events such as South by Southwest and TEDx. Her work has been featured in Fortune, Forbes, Fast Company, Wall Street Journal, Christian Science Monitor, New York Times, Inc., BusinessWeek, NPR, BBC, and media outlets around the world. Traci holds a BA in Global Studies and Entrepreneurship from Principia College and an MA in International Development from American University in Washington, DC.