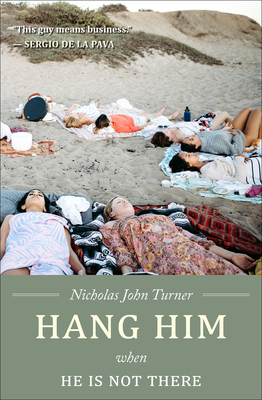 Hang Him When He is Not There
Paperback

* Individual store prices may vary.
Other Editions of This Title:
Paperback (10/15/2018)
Description
New Year's Eve, 1989. At a residential care home in suburban Australia, fireworks explode in the distance while an elderly man dies in troubling circumstances. Decades later, a proof-reader, disfigured by a childhood accident, prepares to meet a celebrated and reclusive novelist. Between these two figures a subtle and intricate web is woven, implicating the members of a mystical cult, the victim of a beheading, an impostor artist, and the enigmatic presence known only as Agent Vell. 
Praise For Hang Him When He is Not There…
"Turner just upends everything. His language is like a taut but complex tool of excavation that just keeps burrowing into deeper terrain. Hang Him When He is Not There is original and disorienting and uncompromising with valuable insight into creative imagination and the reader/text relationship. This guy means business." —Sergio de la Pava, author of A Naked Singularity and Lost Empress

"This debut seems — at first glance — to be made up of free-standing short stories. On reading, and re-reading, however, the links and reflections begin to become apparent. Those gathering certainties are then complicated again. This is the novel as hall of mirrors, and it rewards you for following it to the end." —Republic of Consciousness Prize Judges' Citation

 "Hang Him When He Is Not There feels sharp, and has sharp edges. It really is unlike many other works I've read recently. The voices that are established here, and the weird, dreamlike and nightmarish whirlings of imagery that keep spiralling out of control, [make it] a real rattle-bag." —Eley Williams, author of Attrib. & Other Stories

"To say that a début work of fiction is both brilliant and uncategorisable is to announce an important new writer. One can only say it is concurrently properly clever, properly playful and properly dark, and perhaps list a few precursors, mainly those who willingly or not broke fiction so they could rebuild it. Think Kafka, Beckett, Borges, or more recently Pynchon, Foster Wallace, David Mitchell. It's elevated company indeed; but based on this first book, it will soon be deserved." —Neil Griffiths, author of As a God Might Be

"Truly original and daring." —Luke Stegeman, author of The Beautiful Obscure

"One of the boldest Australian literary débuts of recent years. ... Intricately patterned, intertextual, reflexive, multivocal, bleakly mordant... a narrative splayed and atomised, yet strung together by tangling motifs and voices; a fiction that forks in multiple directions before coiling back together in a snake-like constriction; [a novel that] doubles and fractures the shards of narrative until the whole comes to resemble a mirror that has been smashed and then imperfectly restored." —Shannon Burns, The Weekend Australian

"Darkly humorous, impish, elusive, and intimate. ... A fresh, electrifying, perplexing, flamboyant cornucopia of self-reflexive text." —Eugene Bacon, Antic Magazine

"Smart and playful. ... A curious book that will get you thinking and feeling." —Daniel Young, Tincture

"Intellectually playful. ... Keeps readers enthralled with [its] deep complexity and originality." —Kim Hellberg, The West End Magazine

 "Intricate and subtly interwoven. Hang Him When He Is Not There is not a safe first work of fiction. Rather, it takes risks and challenges conventions masterfully." —Bonnie Stevens, Mous Magazine
Zerogram Press, 9781953409003, 160pp.
Publication Date: April 13, 2021
About the Author
Nicholas John Turner is based in Brisbane, Australia. Hang Him When He Is Not There is his literary debut in North America.
or
Not Currently Available for Direct Purchase