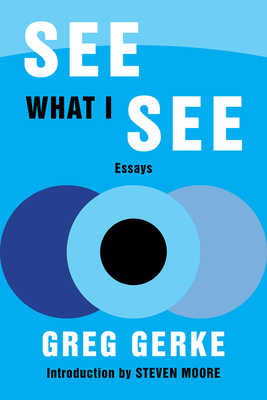 See What I See
Essays
Paperback

* Individual store prices may vary.
Other Editions of This Title:
Paperback (10/31/2019)
Description
What does it mean today to experience a work of art? Where can we turn in search of the genuine, the sincere, the truly accomplished? And even if we were to find them, would we know how to acknowledge their value? The essays in See What I See are the fruits of a lifetime spent grappling with these questions. By turns lyrical and arch, they seek answers in the artistic achievements of the great masters—from Gaddis and Gass to Kubrick and Rohmer—as well as in less likely places. For Greg Gerke, the nectar of aesthetic experience is found as often in the human body as in poetry or prose. This new and expanded version of See What I See, with an introduction by noted scholar Steven Moore, is the perfect companion for the bookworm or cinephile. 
Praise For See What I See: Essays…
"Gerke strives to transform each of his sentences into a little work of art or, failing that, of gorgeous artifice.... In [his] admirably high-minded sentiments, Gerke follows his mentor, William H. Gass, whom he refers to on his dedication page as 'the Master.'" — Michael Dirda, Washington Post

"See What I See is the very brew needed in these parched times. Greg Gerke's generous, thoughtful reflections on the beguiling experience of art are full of uplift and reverence for the illuming efforts of writers and filmmakers: Louise Glück, William H. Gass, and William Gaddis, Stanley Kubrick and Paul Thomas Anderson, to name but a few. And he does not stint intimate experience, the riches of the examined life, and the possibility of 'engaging with the work and then each other." Take up this wonderful book and "drink and be whole again beyond confusion.'" —Christine Schutt, author of Florida and Pure Hollywood

"Greg Gerke's taste is excellent. His knowledge of the creative masters he lovingly observes and reflects on is broad and deep. His judgment is well-grounded and precise. The best thing, though, about his brilliant, quirky book of essays See What I See is understanding what living with great art is like for someone who can't live without it." —Vijay Seshadri, poet, essayist, and Pulitzer Prize winner

"Greg Gerke is an essayist after my own heart. He's smart, he's sensitive, and he's strange. He knows literature and film, and enough about his own catastrophic psyche to make him a reliable witness and commentator." —Phillip Lopate, author of The Art of the Personal Essay

 "This beguiling collection of belletristic essays puts into practice William H. Gass' belief that 'works of art are meant to be lived with and loved.' In prose as beautiful and imagistic as Gass', Gerke recounts how he has lived with and loved certain authors—Gass, Gaddis, Stevens, Stein, Naipaul, and others—and with some auteur directors. See What I See paints a portrait of a 'man of letters' in the old sense of the term, someone for whom literature is a way of life, not an academic profession, and I can't recommend this highly enough." —Steven Moore, author of The Novel: An Alternative Biography and My Back Pages

"Greg Gerke's See What I See is 'enlivened by ruin.' James, Rilke, and Stevens. Gass and Gaddis. Eric Rohmer. These are the shards that he shores against this ruin. Gerke is one of the faithful remnant, loyal to the riches, pleasures, and freedoms of art. See What I See is the fittest subversion of the moralizing present: it revels in its own shrewd gorgeousity." —Curtis White, author of The Middle Mind: Why Americans Don't Think for Themselves
Zerogram Press, 9781953409010, 296pp.
Publication Date: April 7, 2021
About the Author
Greg Gerke lives in Brooklyn, NY. His collection of stories Especially the Bad Things was published in the U.K. in 2019.