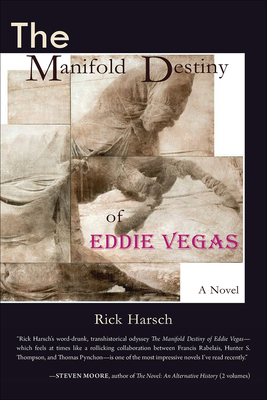 The Manifold Destiny of Eddie Vegas
Paperback

* Individual store prices may vary.
Description
Two young men are caught in the crosshairs of shady government operations, mafias, and billionaires. A multi-generational family drama unfolds into an observation of violence in American History: from the Oregon Trail, to the nuclear age, the Vietnam War, and a post-9/11 world.
Praise For The Manifold Destiny of Eddie Vegas…
"Readers, don your thinking caps and hiking boots, for The Manifold Destiny of Eddie Vegas is an epic journey through Harsch terrain, where at any moment language erodes into a mindscape of hoodoos and canyons—not unlike that geological fantasia, that palimpsest of usurpation: the American West. In an era when many writers concoct their trifles inside the cosseted lairs of academia, Rick Harsch is a refreshing counter-example, a chronicler of our nation's nightmares from his balcony overlooking the Adriatic. You hold in your hands a nuclear apparatus of a novel, operated by characters all too aware of what their futures promise—like Rowor, the tongue man of the Nimíipuu, a night-languaged injun who befriends Hector Robitaille, the bear-mauled, buck-skinned ancestor of Eddie Vegas. Harsch weaves the rough-hewn with the recondite like no other living novelist of my acquaintance. You will revel in his century-shifts, vast erudition, and the cock-eyed, half-cocked ardor of his men and women." —Scott Coffel, American poet and author of Toucans in the Arctic (Etruscan Press, 2009)

 

"I think that once in every generation a few writers appear with the talent, brilliance, curiosity and DRIVE to dare to go their own way, to follow the lead of their own imaginations. I believe that Rick Harsch is of this group. In my view, Rick Harsch is one of the most talented and interesting young writers it has been my privilege to meet in all my years at Iowa." —James Alan McPherson, winner of the Pulitzer Prize in 1978 for his short story collection Elbow Room (Atlantic Monthly Press, 1977)
Zerogram Press, 9781953409072, 632pp.
Publication Date: June 7, 2022
About the Author
Rick Harsch is an American novelist living in Izola, Slovenia. His previous books include Voices After Evelyn (2018), Skulls of Istria (2018), and The Driftless Trilogy (2002). In 2020, he founded a non-profit literary press called corona\samizdat.