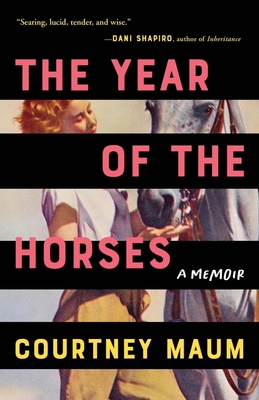 The Year of the Horses
A Memoir
Hardcover

* Individual store prices may vary.
Description
As seen on The Today Show
A Good Morning America, Vanity Fair, NYLON and PureWow Best Book of May and a Publishers Weekly Best Book of Summer

A Most Anticipated Book of 2022 at The Millions, LitHub, and The Rumpus
Sharp, heartfelt, and cathartic, The Year of the Horses captures a woman's journey out of depression and the horses that guide her, physically and emotionally, on a new path forward. 
At the age of thirty-seven, Courtney Maum finds herself in an indoor arena in Connecticut, moments away from stepping back into the saddle. For her, this is not just a riding lesson, but a last-ditch attempt to pull herself back from the brink even though riding is a relic from the past she walked away from. She hasn't been on or near a horse in over thirty years.        
Although Maum does know what depression looks like, she finds herself refusing to admit, at this point in her life, that it could look like her: a woman with a privileged past, a mortgage, a husband, a healthy child, and a published novel. That she feels sadness is undeniable, but she feels no right to claim it. And when both therapy and medication fail, Courtney returns to her childhood passion of horseback riding as a way to recover the joy and fearlessness she once had access to as a young girl. As she finds her way, once again, through the world of contemporary horseback riding—Courtney becomes reacquainted with herself not only as a rider but as a mother, wife,  daughter,  writer, and woman. Alternating timelines and braided with historical portraits of women and horses alongside history's attempts to tame both parties, The Year of the Horses is an inspiring love letter to the power of animals—and humans—to heal the mind and the heart.
Praise For The Year of the Horses: A Memoir…
Beautiful, lyrical. . . . The past interweaves with the present in this fabulous, memorable memoir.
— Good Morning America

Horses play a key role in her recovery, but Maum extracts larger lessons about. . . . the soulful value of acting just for pleasure, and just for yourself, especially as a woman.
— Electric Lit

Tender, honest, and beautifully written.
— Kate Baer, #1 Bestselling author of What Kind Of Woman

Searing, lucid, tender and wise, The Year of the Horses is a moving, beautifully-written interrogation into a complicated, privileged childhood and its aftermath. Courtney Maum weaves together the sensory, tactile world of horses and their capacity to heal us, along with one of the most illuminating and powerful depictions of depression I have ever read. Oh, and it's also a page-turner. I tore through it with immense pleasure.

— Dani Shapiro, author Inheritance

Gorgeously written, wry but loving, heartbreaking and, most of all, roving. . . . The Year of the Horses is a memoir of power and beauty and pain that moves across the world like the beautiful horses that carry it.

— Lisa Taddeo, author of Animal

A touching and insightful memoir of depression and healing.
— The Millions

I was sold at Courtney Maum and "horses," TBH, but pleasantly surprised to learn about the other threads in this one: Maum's experience of reckoning with depression, plus historical portraits of other horseback-riding ladies. Saddle up, we're going riding.
— LitHub

Author of Touch and Costalegre, Courtney Maum writes honestly and openly about confronting depression in her 30s and, when all else failed, taking up horseback riding again.

— Katie Couric Media

Courtney Maum dives into her own life with the same fearlessness and honesty that she brings to her fiction. The Year of the Horses is a beautiful, unflinching exploration of darkness and self-forgiveness, terror and tenderness.

— Hala Alyan, author of Salt Houses

If, like me at age 50, you have a hankering to resume riding again (never mind that it's been 34 years), this is the book for you. Courtney will show you her way to this particular form of personal salvation.
— Sally Mann, author of Hold Still

Courney Maum writes not from an ideal of who she should be but as she is; it lacks performative overtones or those typical bits where the reader is assured the author is self-aware. No, it's nothing like that—The Year of the Horses sings like the world actually feels, offering readers permission to be who we are, written by one of the best, a writer's writer, with a maturity that reveals her decades long devotion to her craft.

— Holly Whitaker, author of Quit Like a Woman: The Radical Choice to Not Drink in a Culture Obsessed with Alcohol

The concept of finding safety in a dangerous sport won't make sense to everyone, but the way that Courtney found meaning and magic in horses resonates with me. As a polo player, I loved the sometimes laugh-out-loud journey of an adult trying against all odds to learn the sport of kings. This is a great memoir that somehow manages to be both deeply moving, and funny.
— Kareem Rosser, author of Crossing the Line: A Fearless Team of Brothers and the Sport That Changed Their Lives Forever

A wonderful read, whether you are a horse person or not.
— Hudson Valley Magazine

An inspiration. . . . celebrates preserving one's inner wildness.
— Polo Lady Magazine

First and foremost, about reclaiming joy. . . . Written in beautifully expressive prose. . . . Revelatory.
— Full Stop

Generously transparent and willingly vulnerable.
— Leo Weekly

Engaging, enjoyable and full of horse knowledge.
— Chick Lit Central

Poignant.
— Dandelion Chandelier

Many women may find much to relate to in Maum's vulnerable and human story, which could be a favorite for book clubs.
— Booklist

Entertaining. . . . vivid and exuberantly cathartic.
— Publishers Weekly

A candid, deeply moving journey that details how she found her way out of a labyrinth of depression by rekindling her passion for horses. . . . wittily engaging and uncompromisingly forthright.
— Shelf Awareness
Tin House Books, 9781953534156
Publication Date: May 3, 2022
About the Author
Courtney Maum is the author of the novels Costalegre; Touch; and I Am Having So Much Fun Here Without You; and a guide for writers, Before and After the Book Deal. Her writing and essays have been widely published in such outlets as The New York Times; O, the Oprah Magazine; Interview Magazine; and Modern Loss. She lives in Litchfield County, Connecticut, where she founded the learning collaborative The Cabins.