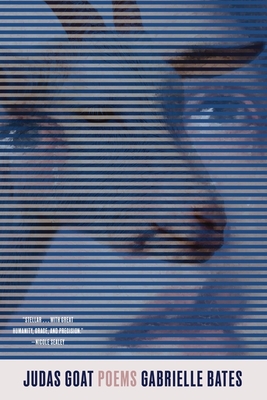 Judas Goat
Poems
Paperback

* Individual store prices may vary.
Other Editions of This Title:
Digital Audiobook (1/23/2023)
Description
"Stellar . . . with great humanity, grace and precision." —Nicole Sealey, author of Ordinary Beast
Gabrielle Bates's electric debut collection Judas Goat plumbs the depths of intimate relationships. The book's eponymous animal is used to lead sheep to slaughter, while its own life is spared, and its harrowing existence echoes through this spellbinding collection of forty poems, which wrestle with betrayal and forced obedience, violence and young womanhood, and the "forbidden felt language" of sexual and sacred love. These poems conjure encounters with figures from scriptures, domesticated animals eyeing the wild, and mothering as a shape-shifting, spectral force; they question what it means to love another person and how to exorcise childhood fears. All the while, the Deep South haunts, and no matter how far away the speaker moves, the South always draws her back home.



In confession, in illumination, Bates establishes herself as an unflinching witness to the risks that desire necessitates, as Judas Goat holds readers close and whispers its unforgettable lines.
Praise For Judas Goat: Poems…
Inside the slipperiness of language, Gabrielle Bates writes with a precision that is both lush and masterful. Her writing feels like a laser beam dancing under a waterfall, drenched with exquisite diction, ache, and desire. Violence and tenderness are throttled and exposed through human touch and terror, needling the symbolic intensities through the linguistic landscape of animals. Gorgeous questions loom and ricochet throughout Judas Goat, a book that has utterly wrecked my heart and left me in awe as I gasp at lines that wake me up to the wild world. Bates writes, 'If I describe something, anything, long enough, / language will lead me back to wanting it.' This type of yearning creates dazzling entry points inside poems probing and reaching for God, the South, marriage, friendship, mothers, and mentor poets we see as mothers, grieving, and so much longing, longing, longing bursting throughout this remarkable debut.

— Tiana Clark, author of I Can't Talk About the Trees Without Blood

I was once so terrified of my own contentment / I bit my shoulder / and drew blood,' confesses a speaker in Gabrielle Bates' stellar debut, Judas Goat, which thinks through our luck and lot with great humanity, grace, and precision. In disbelief, you'll want to pinch yourself while reading . . . no need. Believe me, Judas Goat is just that good.

— Nicole Sealey, author of Ordinary Beast

Gabrielle Bates announces herself as a poet of compassion, precision, and heartbreak in all its myriad ways–in Judas Goat, the poet studies and upends stories of suffering in both human and animal worlds. Radiating with the curiosity and wonder of a medieval painter, the poet's refreshing voice creates a glistening world of religious, mythic, pagan, and modern images which interrogate the cruelties in our most intimate relationships: lovers, parents, landscapes, and gods. In poems that are both sharp and tender, she writes of effigies and little lambs, of chisels in the hands of mentors, of early marriages, of subway stations, of white ash and the 'cold blood on the cock of god.' And yet through all the layers of large and little violences emerges a speaker who believes in love, a voice that yearns for the mysterious otherwhere: 'I am too dying/ of what I don't know.' I was stunned by this magnificent debut–here is the voice of a poet I will be reading again and again.

— Aria Aber, author of Hard Damage
Tin House Books, 9781953534644
Publication Date: January 24, 2023
About the Author
Gabrielle Bates's poetry has appeared in The New Yorker, Poetry, The American Poetry Review, and other publications. A writer, visual artist, and co-host of The Poet Salon podcast, Bates is originally from Birmingham, Alabama, and now lives in Seattle, Washington.