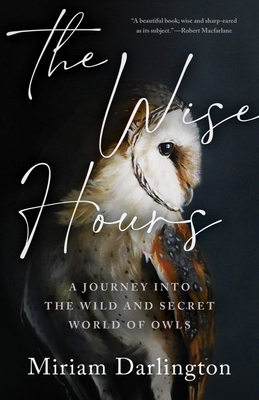 The Wise Hours
A Journey into the Wild and Secret World of Owls
Hardcover

* Individual store prices may vary.
Description
"Unfailingly precise and lovingly poetic. . . .  Nature writing of the first order." —The Wall Street Journal
"A beautiful book; wise and sharp-eared as its subject." —Robert Macfarlane
One minute I was sipping my tea by the window. There was nothing but the palest edge of grey light and a wisp of steam from my cup—and then a shadow swooped out of the air. With the lightest of scratches, as if the dawn light was solidifying into life, there it was, perched like an exclamation mark on the balcony: an owl, come to my home.
Owls have existed for over sixty million years, and in the relatively short time we have shared the planet with these majestic birds they have ignited the human imagination. But even as owls continue to captivate our collective consciousness, celebrated British nature writer Miriam Darlington finds herself struck by all she doesn't know about the true nature of these enigmatic creatures.



Darlington begins her fieldwork in the British Isles with her teenage son, Benji. As her avian fascination grows, she travels to France, Serbia, Spain, Finland, and the frosted Lapland borders of the Arctic for rare encounters with the Barn Owl, Tawny Owl, Long-eared Owl, Pygmy Owl, Snowy Owl, and more. But when her son develops a mysterious illness, her quest to understand the elusive nature of owls becomes entangled with her search for finding a cure.



In The Wise Hours, Darlington watches and listens to the natural world and to the rhythms of her home and family, inviting readers to discover the wonders of owls alongside her while rewilding our imagination with the mystery, fragility, and magnificence of all creatures.
Praise For The Wise Hours: A Journey into the Wild and Secret World of Owls…
Unfailingly precise and lovingly poetic. . . .  Nature writing of the first order.
— The Wall Street Journal

A smooth mixture of memoir and nature writing. . . . Lyrical and captivating. . . . heartfelt, enchanting, and beautifully written.
— Kirkus Reviews, Starred Review

Lyrical. . . . moving. . . . Dazzling.
— Publishers Weekly, Starred Review

Beautiful. . . . wonderfully informative and enjoyable.
— Booklist

Open this book, and be thrilled to look at the owl with an even more profound sense of knowledge.
— The Muskogee Phoenix

Heartfelt. . . . Darlington's work is as unique and enchanting as its subjects.
— She Reads

Thoughtful. . . . A call for more care of the natural world, protection of spaces needed by our fellow creatures, and a willingness to live with uncertainty, this book offers heart and soul as well as natural history.
— Southern Bookseller Review

A beautiful book; wise and sharp-eared as its subject.
— Robert Macfarlane

Enchanting.
— Tristan Gooley, author of How to Read Nature

A lyrical examination of the interweaving place owls hold in nature and human culture; Darlington writes with intimacy and beauty.
— Jonathan C. Slaght, author of Owls of the Eastern Ice

Beautiful descriptions of these magnificent creatures and their habitats.
— P.D. Smith, author of City

Darlington brings humor, humility, and a refreshing subjectivity to her quest to understand these charismatic creatures.
— Melissa Harrison, author of All Among the Barley

A delight. Darlington's vision, sensitivity and word craft are vital.
— Caspar Henderson, author of A New Map of Wonders

Captivating.
— The Times

Achingly beautiful.
— The Guardian

Vivid and engaging.
— Sunday Times
Tin House Books, 9781953534835, 336pp.
Publication Date: February 7, 2023
About the Author
Miriam Darlington contributes frequently to The Times, The Guardian, and The Ecologist, and is also the author of Otter Country, forthcoming in the US from Tin House in 2024. She lives in Devon, England.