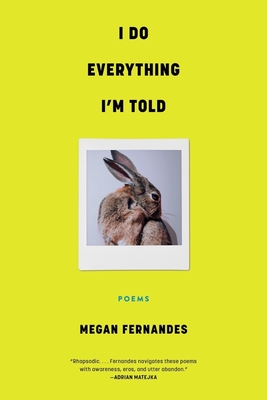 I Do Everything I'm Told
Paperback

* Individual store prices may vary.
Description
A Rumpus Most Anticipated Book of 2023

"In the absence of love, ritual. / Understand that ritual is a kind of patience, an awaiting and waiting. Keep / waiting, kitten. You will be surprised what you can come back from."
Bristling with restlessness and wit, Megan Fernandes'
I Do Everything I'm Told
explores disobedience and worship, false beloveds, possessiveness, and long nights of solitude. Its poems span thousands of miles, as a masterful crown of sonnets starts in Shanghai, then flies through Brooklyn, Lisbon, Palermo, Sacramento, Paris, Philadelphia, and finally, somewhere only language can reach, where the speaker waits for a revelation.
Across five sections, poems navigate through the terrain of loss: the loss of relationships, the loss of a promised future. But amid devastation, they push us to consider joy as a necessity—in the smallest interactions, Fernandes observes that which moves us forward. "I do not track the world by beauty but joy," a speaker says. "That first bite into the soft carrot of tagine stew while a / storm wailed over the East River. The misfit raccoon / bouncing on trash bins in Central Park." Formally and sonically adventurous,
I Do Everything I'm Told
is the book for a generation who seeks to cross the distances between one another and rediscover an intimacy nearly taken by despair.
Praise For I Do Everything I'm Told…
Megan Fernandes is one of my favorite poets because she does things on the page that I and most other poets can't imagine. Her rhapsodic lineation, her liberated image and metaphor. All that wonder is on display in her new stunner I Do Everything I'm Told. The collection is, at its center, a book of love poems like all the best poetry collections are. The pretense of love, the past tense of love, and what we do when the little galaxies we build with others start to come apart. Fernandes navigates these spaces with the kind of slick wit and care that love poems require: awareness, eros, and utter abandon. Her first two collections showed us the possibilities for a different kind of poem. I Do Everything I'm Told shows us what poetry looks like in the aftermath.

— Adrian Matejka, author of Somebody Else Sold the World

Beautiful, provocative pleasures, these poems apply a sophisticated intelligence to the most vulnerable and insatiable yearnings. Fernandes degloves traditions of love poetry through her radically adventurous poetry, baring the muscle beneath the skin. Each poem, ungovernable and alive to the contemporary moment, carries forward an original and compelling vision. The result is a brilliant triumph—both poignant and bracing.
— Lee Upton, author of The Day Every Day Is

In I Do Everything I'm Told, we are embraced simultaneously by finality and ambiguity, rules made only to be broken, and in their tesserae lie a beauty that rejects its own existence while reflecting back our own. 'Sometimes, I wonder if I would know a beautiful thing / if I saw it,' Fernandes writes, making of wonder itself a journey beyond the veil where death, violence, and uncertainty herald revision, witness, and love. An incredible book!

— Phillip B. Williams, author of Mutiny
Tin House Books, 9781953534880, 112pp.
Publication Date: June 20, 2023
About the Author
Megan Fernandes is the author of Good Boys, a finalist for the Kundiman Poetry Prize and the Paterson Poetry Prize. Her poems have been published in The New Yorker, The American Poetry Review, The Common, Guernica, and the Academy of American Poets, among others. An assistant professor of English and the writer-in-residence at Lafayette College, Megan lives in New York City.