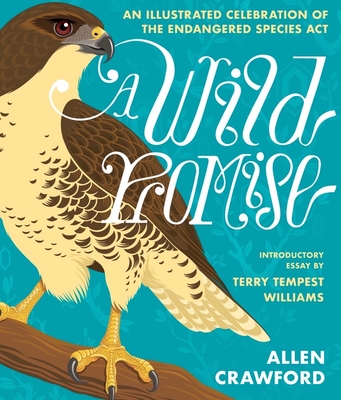 A Wild Promise
An Illustrated Celebration of The Endangered Species Act
Hardcover

* Individual store prices may vary.
Description
"The Endangered Species Act is an act of love that asks for our engagement, each in our own way with the gifts that are ours in the places we call home. Learn their names. Speak their names. Remember their names. Act." —Terry Tempest Williams, from the Introduction
In 1973, the United States Congress came together with bipartisan support to create and pass a bold and visionary act—one of protection, preservation, and promise. For the past fifty years, this promise, the Endangered Species Act, has ensured that the most threatened and vulnerable species and their habitats are protected. From the stellar sea lion to the ivory-billed woodpecker, from the steelhead trout to the red wolf—this landmark act has worked to preserve the wild beauty that surrounds and sustains us.
In
A Wild Promise
, acclaimed artist Allen Crawford beautifully illustrates over 80 animals that embody the spirit, legacy, and commitment of the Endangered Species Act. In his trademark inventive style, Crawford's full-color illustrations and illuminated text create a vibrant tapestry of our nation's habitats—oceans, mountains, deserts, wetlands, prairies, forests—and the varied species that call these places home. With a powerful and moving introduction by award-winning writer and conservationist, Terry Tempest Williams,
A Wild Promise
brings critical urgency and inspiration, lending voice and spirit to all Endangered Species. A one-of-a-kind work that's visually delightful and inspiring throughout,
A Wild Promise
is a celebration of conservation, commitment, and compassion—a clarion call to continue to embrace, engage, and act in ways that preserve and protect our living world.
Tin House Books, 9781953534897, 208pp.
Publication Date: July 11, 2023
About the Author
Allen Crawford is the author and illustrator of Whitman Illuminated: Song of Myself. He and his wife Susan are proprietors of the design/illustration studio Plankton Art Co. Their illustrations are on permanent display at the American Museum of Natural History's Milstein Hall of Ocean Life. His work has appeared in numerous publications including The New York Times, Orion, and Art in America. He lives in Mt. Holly, New Jersey.

.

Terry Tempest Williams is an American writer, educator, and conservationist. Her award-winning books include, Refuge, When Women Were Birds, The Hour of Land, and Erosion - Essays of Undoing. She lives in Castle Valley, Utah.